Renewable Energy Magazine 2022
Global events of the past 12 months have served to highlight the importance of growing Ireland's indigenous renewable energy. Radically reducing the dependence on imported energy will empower Ireland to control energy costs, a key aspect of retaining public confidence in the transition.
As the impact of the carbon ceilings across various sectors start to land, it is clear that if Ireland is to meet its net zero target by 2050, a diversity of technologies will be required.
Of all that is currently deployable at scale, electrification stands as the most viable route to decarbonisation, but Ireland must move to maximise efficiencies in the generation and distribution of renewable power. However, even increased generation, through a renewable pipeline of development particularly in the onshore and offshore wind sectors, will not be enough.
Flexible and emerging technologies can complement renewable assets, reducing curtailment and maximising the electricity grid. Co-location of generation, usage, storage, and grid infrastructure is critical. Ireland must accelerate the deployment of renewables to mitigate risk but this must go beyond generation to maximise efficiency.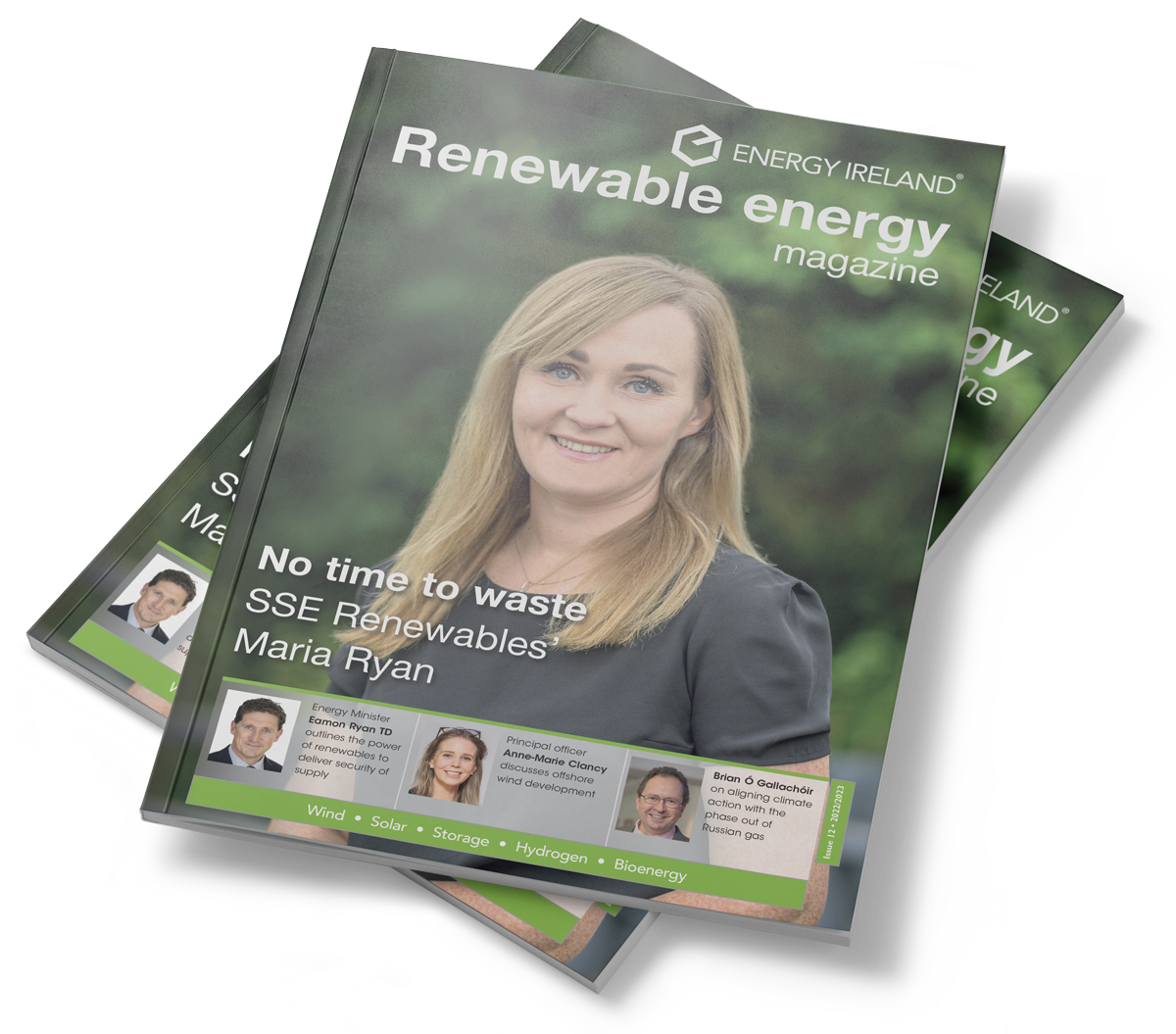 13th October 2022
Amid the ongoing energy crisis, Maria Ryan, Director of Development, SSE Renewables, discusses security of supply, decarbonisation, delivering the offshore wind ambition, and a role for
[…]
13th October 2022
Gas Networks Ireland hosted a round table discussion on making Ireland's energy system more sustainable and integrated at its low carbon service centre on St Margaret's
[…]
12th October 2022
Minister Eamon Ryan TD says that we have to decarbonise our society faster than we ever have before and "destroy" both natural energy demand and the
[…]
12th October 2022
According to Ditte Juul Jørgensen, Director General for Energy of the European Commission, the EU is at a turning point with its energy policy which has
[…]
12th October 2022
The traditional flow of energy was unidirectional, from large generators to customers with suppliers acting as intermediaries. This relationship is beginning to be transformed however, as
[…]
12th October 2022
Hitachi Energy is championing the urgency of this clean energy transition and serving customers in Ireland with innovative solutions and services across the electrification value chain.
[…]
12th October 2022
Brian Ó Gallachóir, Director, MaREI Centre, University College Cork believes that topics once closed for debate such as gas storage, LNG and indigenous gas must be
[…]
12th October 2022
Principal officer in the Department of the Environment, Climate and Communication's (DECC) offshore energy, environment and consenting and long-term strategic planning division, Anne-Marie Clancy, outlines a
[…]
12th October 2022
With the increasing pressure on gas prices, the reliance of foreign countries for Ireland's energy supply, and ensuring that the State meets its carbon emissions targets,
[…]
12th October 2022
Following the successful launch of the Bord na Móna Energy Park in 2021, the organisation's Commercial Manager, Brendan Kelly, outlines how co-location of renewable assets will
[…]
12th October 2022
Following the publication of the Northern Ireland Energy Strategy, the Head of Energy in the Department for the Economy (DfE), Richard Rodgers, talks to David Whelan
[…]
12th October 2022
It is very difficult to envisage any positive outcomes from the current energy crisis and consequential cost of living crisis or imagine how the crises can
[…]
12th October 2022
Sustainable Energy Authority of Ireland's (SEAI) Jim Scheer argues that while hydrogen has a vital role in Ireland's decarbonisation, it is not the right energy source
[…]
12th October 2022
Between the Climate Action Plan, reducing demand on foreign states for energy supply, and the European Union's measures to phase out the use of Russian fossil
[…]
12th October 2022
The UN Intergovernmental Panel on Climate Change (IPCC) have recognised that bioenergy is the largest current contributor to renewable energy across the world. The IPCC strongly
[…]
12th October 2022
John Finnegan, Principal Officer at the Department of the Environment, Climate and Communications, tells the Renewable Energy Magazine that the Department is "very much in listening
[…]
12th October 2022
We are living in an unprecedented energy crisis created by our dependence on imported fossil fuels and the slow roll out of renewable energy, writes Wind
[…]
12th October 2022
Raised ambitions as a result of carbon budgets aim for the delivery of 5.5GW of solar power in Ireland by 2030, but there are fears that
[…]
12th October 2022
As consumers, businesses and policymakers escalate the drive to decarbonise Ireland's economy and society, Calor is poised to help deliver a cleaner economy for rural Ireland.
[…]
12th October 2022
Now is the time to realise that the economic and health impacts of climate change are too destructive to be ignored, writes Surety Bonds Managing Director,
[…]
12th October 2022
Ireland can learn from the UK on transitioning to green energy, particularly with developing supply chains, according to Luke Clark, Director of Strategic Communications, RenewableUK. Clark
[…]
12th October 2022
As a dedicated developer of renewable energy projects in Ireland and across the globe, DP Energy is committed to developing and integrating energy storage solutions within
[…]
12th October 2022
University of Galway's Rory Monaghan assesses where hydrogen fits in Ireland's future energy system. Monaghan believes that an opportunity now exists for Ireland to seize on
[…]
12th October 2022
Mainstream Renewable Power, established in Ireland and now one of the world's leading renewable energy companies, has announced details of three significant new offshore wind projects.
[…]
12th October 2022
Policy and regulatory support for energy storage is needed to enable the energy transition in Northern Ireland, says Ulster University's Inna Vorushylo. Highlighting the three main
[…]
12th October 2022
Northern Ireland's Department for the Economy announced its energy strategy in December 2021, which includes an ambition of establishing a renewable energy support scheme. The commitment
[…]
12th October 2022
Steven Agnew, Director of RenewableNI, explains why the organisation is trying to push forward the Northern Ireland Energy Strategy without a functioning government. RenewableNI is the
[…]
12th October 2022
After the findings of the National Heat Study, which found that district heating could provide up to 50 per cent of building heating demand in Ireland,
[…]
12th October 2022
KRA Renewables are fulfilling a vital role as an independent renewable energy consultancy and continue to initiate critical conversations on transitioning businesses to adopt more sustainable
[…]
12th October 2022
Ireland could develop an additional 360MW of pumped storage hydroelectric capacity by 2030 to mitigate security of supply concerns in relation to electricity. The deployment of
[…]
12th October 2022
Coillte and ESB have united to form a renewable energy joint venture company. FuturEnergy Ireland CEO Peter Lynch explains why this collaboration has the potential to
[…]
12th October 2022
Published by the Department for the Economy (DfE) in March 2022, Electricity Consumption and Renewable Generation in Northern Ireland: Year ending December 2021 outlines the percentage
[…]
12th October 2022
CEO of the Electricity Association of Ireland (EAI), Dara Lynott, discusses the important role of renewable electricity in achieving a carbon neutral economy. Setting the context
[…]
12th October 2022
With electricity demand over the next 10 years forecast to continue to grow, the Department of the Environment, Climate and Communications (DECC) has outlined a number
[…]
12th October 2022
International energy company Irving Oil and Simply Blue Group, an Irish blue economy developer in floating offshore wind and renewable fuels, have signed a Memorandum of
[…]
12th October 2022
Chairperson of Renewable Energy Ireland, Tanya Harrington, calls for a redoubling of efforts to urgently remove barriers to the faster deployment of renewable energy. The last
[…]