Green transition: Lessons from the UK
12th October 2022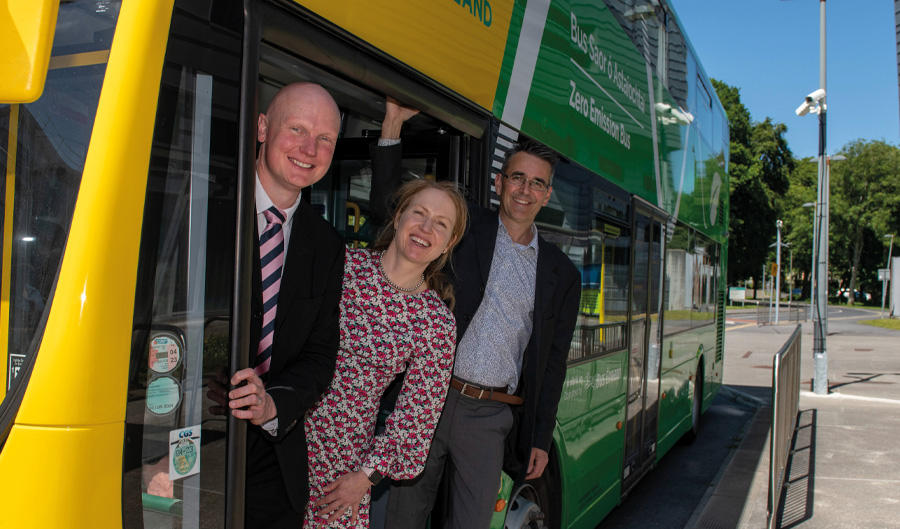 Developing Ireland's hydrogen opportunity
12th October 2022
As a dedicated developer of renewable energy projects in Ireland and across the globe, DP Energy is committed to developing and integrating energy storage solutions within its projects to deliver a world fully powered by renewable energy.
Can you imagine a world that is fully powered by renewable energy? That is the overall goal of DP Energy, the Cork-based company that develops, constructs and has operated a range of renewable energy assets worldwide using only the most sustainable and environmentally responsible methods and technologies.
Established over 30 years ago and headquartered in Buttevant in County Cork, DP Energy delivered its first wind farm project in Tyrone in 1993 and, since then, has delivered seven wind energy projects across the island of Ireland and a further four in Scotland and the UK. The company has also developed over 1GW of renewable energy projects across Australia, Canada, Ireland and the UK, with three quarters of these projects already built and operational.
Currently, DP Energy has an immediate pipeline of 7GW of wind and solar energy projects across Ireland, Australia, the UK and Canada, with 750MW due to enter construction in 2023. These projects variously incorporate both on and offshore wind, solar and ocean energy technologies.
In the offshore wind space in particular, DP Energy is actively pursuing a number of projects across Europe and Canada and has partnered with EDF Renewables for 1GW of offshore wind in the UK Celtic Sea and with Iberdrola, one of the world's largest renewable energy producers, to deliver 3GW of offshore wind in Ireland.
Delivery of the three offshore wind schemes in Ireland, programmed to be operational by 2030, will significantly contribute to Ireland's Climate Action Plan target of 80 per cent renewable electricity by 2030, 7GW of offshore wind by 2030 and ultimately to the country's net zero carbon target by 2050. The three Irish projects include a fixed-bottom project off the Wexford coast and two floating projects off the Cork and Clare coasts. It is a very exciting time in Ireland as offshore floating wind technology (FLOW) is now technically and commercially viable. This technology will allow DP Energy to deploy FLOW on the south coast, but especially the west coast, which has one of the best wind resources in the world.
Australia is another significant market for DP Energy when it comes to offshore wind. The company is already a significant player in the renewable energy space in Australia, with lead projects there including the 320MW Port Augusta Renewable Energy Park in South Australia, and the 430MW Callide Wind Farm in Queensland. Now, DP Energy is currently pursuing offshore wind development in Australia following greater government focus on embracing offshore wind potential to increase the contribution of renewable energy and meet emissions reduction targets. The company has identified key offshore sites on the south and east coasts and is currently undertaking early-stage feasibility studies for these project sites.
The Federal Government recently announced six regions across Australia with the potential for offshore wind projects, with Gippsland in Victoria the most advanced. The Victorian government is aiming to generate approximately 20 per cent (2GW) of its energy needs from offshore wind by 2032, 4GW of offshore wind capacity by 2035 and 9GW by 2040. Australia will be DP Energy's first venture into offshore wind in the southern hemisphere.
In every project it works on, the team at DP Energy draws on its long international experience in developing renewables projects in a bid to achieve the overall goal of reducing the world's reliance on fossil fuels.
"No single energy storage technology will be the solution for Ireland, and DP Energy are working with all technologies to identify efficient, sustainable solutions."
To achieve this vision, the company is investing heavily in the development of enabling technologies, those that support increased renewables penetration into the electricity network by addressing intermittency and/or grid stability. These technologies are as essential as the renewable generation plant itself in order to ensure full decarbonisation, and allow us to begin moving away from the need for fossil fuel generation plant and our reliance on foreign fuel sources.
Renewable energy generation technologies are typically intermittent in nature because they rely on natural resources: wind, sun, waves and tides. It is not possible to simply switch on the generation plant on demand and for that reason solutions need to be developed to utilise the abundant natural energy that is available when we do not need it so that we have it when we do need it. This is where enabling technologies come in.
This is typically done by storing the energy in batteries (battery energy storage systems: BESS) or by converting it into a different form of energy, for example, by pumped storage so that the energy can be released later through a hydro turbine (pumped hydro). An alternative approach to BESS and pumped hydro is to create and store the energy in a fuel such as hydrogen (or ammonia) using the power generated by the wind or sun which can then be released when required through burning in a gas turbine.
As a dedicated developer of renewable energy projects, DP Energy is committed to integrating energy storage solutions within all its existing and proposed renewable energy developments where feasible and to developing standalone energy storage systems including hydrogen manufacturing, production and storage as part of its broader project portfolio.
Every renewable technology brings its own challenges when integration to the grid is considered. No single energy storage technology will be the solution for Ireland, and DP Energy are working with all technologies to identify efficient, sustainable solutions.
DP Energy's vision of a world fully powered by renewable energy is achievable and the company plans to lead from the front to make this a reality, in Ireland and worldwide.
W: www.dpenergy.com
Twitter: @energydp
LinkedIn: DP Energy Group