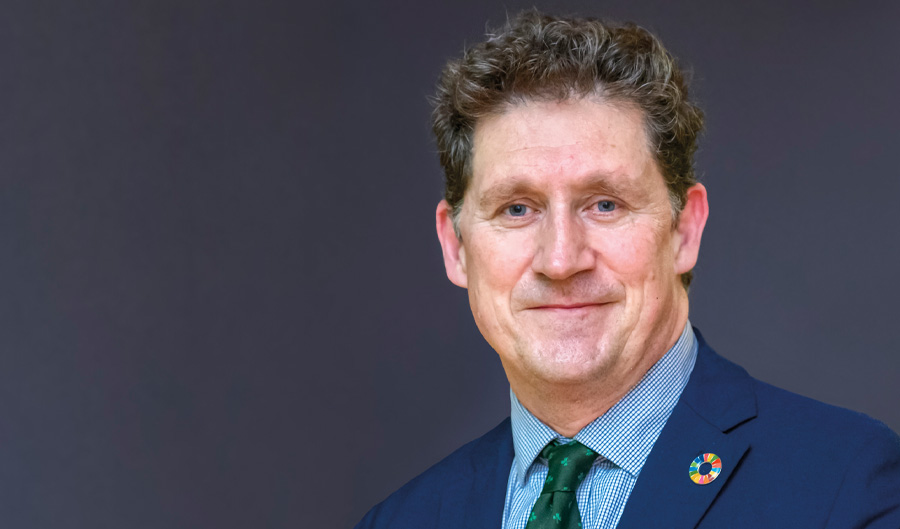 Minister Eamon Ryan TD: 'We are at a moment of change'
12th October 2022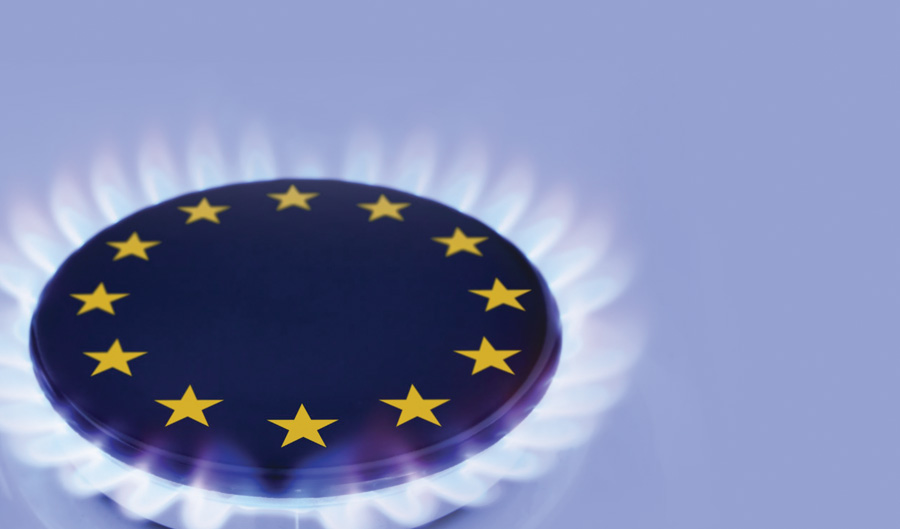 EU facing 'unprecedented challenges' in energy
12th October 2022
Amid the ongoing energy crisis, Maria Ryan, Director of Development, SSE Renewables, discusses security of supply, decarbonisation, delivering the offshore wind ambition, and a role for green hydrogen.
Overseeing the development portfolio of SSE Renewables' offshore projects in both the UK and Ireland, Maria Ryan is responsible for several large-scale offshore wind energy projects progressing from concept to construction. In Ireland, SSE Renewables' flagship project is the 800MW Arklow Bank Wind Park Phase 2. With a €2.5 billion capital investment and the creation of 80 full-time jobs, Arklow Bank Wind Park Phase 2 will power 850,000 homes per annum, while offsetting around 830 million kilos of CO2 emissions annually.
"We have recently celebrated some significant achievements in the Arklow project with the granting of planning permission for the onshore grid infrastructure, as well as the operations and maintenance facility; the first offshore project in Ireland to achieve these milestones.
"SSE Renewables' pipeline of offshore wind energy projects has the potential to deliver around 3GW by 2030, a significant proportion of the national 7GW target," the Director of Development outlines.
Ambition
Remarking on the prevailing consensus that Ireland must embark on a course of action to insulate itself from energy crises of the future, Ryan identifies offshore wind energy as the solution that can deliver at scale.
Discussing the Government's ambition to ensure that 80 per cent of electricity is generated from renewable sources by 2030, the Director of Development is reflective.
"Considering the 80 per cent and the 7GW targets, you can see why people perceive it as extremely challenging. However, thinking back to the 40 per cent target for 2020, people thought it was going to be a massive challenge and yet it was surpassed. We had huge success with onshore wind then, and now we have the opportunity to replicate that with offshore wind," she asserts.
While Ryan is cognisant of the time constraints on offshore wind project delivery – it can take up to 10 years to reach completion – and acknowledges that it could be late 2024 at the earliest before offshore wind projects receive consent, she insists that there is no alternative but to be ambitious.
"We have a climate crisis allied with energy security challenges and inflationary pressures. So we have no choice but to deliver enhanced offshore wind targets. If we do not seek to be ambitious in this context, we will never deliver the solutions, but we need urgent action," she adds.
Similarly, while the 2030 targets are an immediate priority, it is necessary to begin looking beyond these to 2050 and determine the stepping stone targets between 2030 and 2050. "We are eight years away from the end of the decade when targets will reach the cliff edge that separates 2030 and 2050. In that intervening period, we must build capacity from 7GW to the newly proposed 37GW, which is a significant leap.
"What we need to see from an investment perspective, therefore, is certainty. From an offshore wind perspective, stepped targets from 2030 right through to 2050 will be required to build confidence in the long-term investment required to deliver on the ambition.
"The same can be said for the supply chain. Suppliers must have confidence in order to engage with the Irish market and developers need certainty to place reservations and orders. Without certainty the supply chain will simply pursue contracts in other jurisdictions where they have certainty around delivery timelines and Irish developers will be bypassed, bearing in mind even with certainty the supply chain is likely to create a bottleneck given the global scale of offshore wind."
SSE Renewables has already embraced the opportunity to cultivate a new offshore wind supply chain in Ireland, particularly at a local level. "We are using local vessels to do our survey work and local companies to deliver our safety training," Ryan notes.
Significance
Against the backdrop of the European energy crisis and the energy transition, the acceleration of renewable energy deployment has assumed heightened relevance. Ireland's energy system faces several challenges, particularly in relation to its exposure to international energy markets.
"If events of the last couple of years – from the Covid pandemic to the Russian invasion of Ukraine – have taught us anything, it is how quickly and dramatically things can change," Ryan observes, adding: "We all know that we must reduce our reliance on fossil fuels to mitigate exposure to imported gas, gas volatility, geopolitical instability, but also, of course, to decarbonise the energy system in the context of the climate crisis – renewable energy is the route to avoid the current crises in future and offshore wind can provide indigenous green generation at scale."
While making a significant contribution to the decarbonisation of electricity, offshore wind will also contribute to the decarbonisation of other sectors via electrification. Simultaneously, as renewable generation such as offshore wind reduces exposure to fossil fuel generation, reductions in wholesale energy prices will also drive down consumer prices. It is estimated that if Arklow Bank Phase 2 had been operational today it would have paid back €256 million to consumers over the last year.
In July 2022, the Irish Government scaled up its ambitions for offshore wind, increasing its 2030 target from 5GW to 7GW. Announced as part of a new package of measures to meet Ireland's sectoral emissions ceilings, SSE Renewables welcomed the new target – one that the company had publicly called for.
While Ireland is optimally positioned to achieve energy independence, this increased ambition, as evidenced in the Government's revised target for 2030, will be essential in unlocking Ireland's full offshore wind potential.
Certainty
"Ireland initially led on the early development of offshore wind with the commission of the 25MW Arklow Wind Bank Phase 1 in 2004. However, there is still only 25MW of operational offshore wind energy today in 2022 and we have been surpassed by several other regions. We are playing catch up and are competing on a global scale.
"We are looking to ORESS 1 in 2023 which will be a landmark moment for the entire offshore wind industry in Ireland," Ryan emphasises. Currently, there are significant uncertainties and risks associated with ORESS 1 and it is shaping to be one of the riskiest auctions in the world. While developers are, to some extent, accustomed to risk, this will ultimately have an inflationary impact on prices at the auction.
For instance, in the absence of indexation and planning permission, investors are being asked to bid without knowing the size, scale, number of turbines, or the conditions that are going to be imposed on the project. Developers will be required to factor this into the price which will ultimately be passed onto consumers in the long term. Planning should be a pre-requisite for ORESS 2, something which will mitigate this huge risk.
"The window is closing on our ability to deliver Ireland's 2030 target for renewable electricity. We have no time to waste."
Maria Ryan, Director of Development, SSE Renewables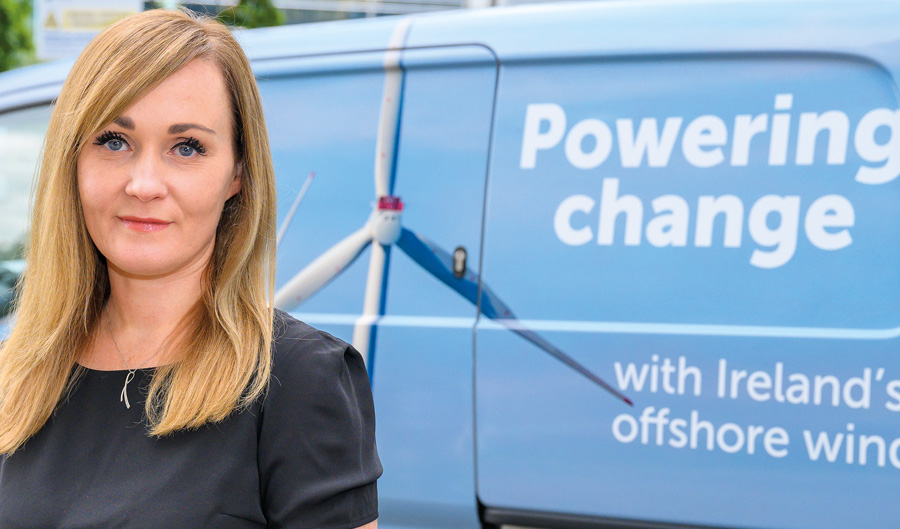 "Certainty is a huge challenge," Ryan acknowledges, adding: "If we consider the planning process – which has always been a challenge for the entire wind energy sector – it is necessary to have a fair and equitable process but one which also moves at pace. We cannot have these projects languishing in the planning process for years and years. If this happens, we will absolutely fail to meet the targets. Renewable projects need to be prioritised. The relevant bodies must be sufficiently resourced to ensure that they can address the project pipeline in an agile, effective, and efficient manner. Simultaneously, certainty is required on the delivery of grid connections for projects and work needs to start on strengthening the grid to ensure we can have as much offshore wind connected with as few bottlenecks as possible so we can maximise our resource.
"We need to see the new Maritime Area Regulatory Authority [MARA] set up and operational as soon as possible so that we can create a robust pipeline of projects through the Phase 2 Maritime Area Consent [MAC] allocation. That MAC process must focus on projects which are deliverable, brought forward by developers with credible offshore wind experience. That way we can find a balance between creating a large enough pipeline to deliver beyond our 2030 targets whilst also reducing the likelihood of key bodies like An Bord Pleanála being overwhelmed with applications and becoming a bottleneck."
Having contextualised the challenge, Ryan indicates that implementation must now mirror Ireland's ambition for renewable energy deployment. Accelerated deployment hinges on certainty.
Hydrogen opportunity
In the coming decades, the Irish offshore wind sector has the potential to reach a point whereby more energy is generated than is consumed. One opportunity in this scenario will be the generation of green hydrogen from offshore wind for export. Suggesting that Ireland is a "clear and obvious choice as a future exporter of hydrogen", Ryan insists: "There is a clear path for Ireland to create a new market. Everything must be considered holistically. SSE Renewables was delighted to observe the Consultation on developing a hydrogen strategy for Ireland. However, it is 2022 and we are already on the back foot. What we need is to cultivate a cohesive hydrogen economy that spans supply chain, market demand, transport, and storage."
As such, in June 2022, SSE Renewables launched its Galway Hydrogen Hub (GH2), Ireland's first hydrogen valley. GH2 is a regional hydrogen ecosystem linking research, production, distribution, and transportation with various end users, including transport and industry.
"With all the necessary expertise and an understanding of what is required, SSE Renewables is transitioning from theory to action by developing this demonstrative project," she explains.
Experience
With one eye on 2030 and beyond, the Director of Development is keen to reflect on current successes. For example, in August 2022, the 1,075MW Seagreen Offshore Wind Farm – Scotland's largest offshore wind farm and the world's deepest fixed bottom wind farm (a joint SSE Renewables and TotalEnergies project) – announced first power generation, with Commercial Operation Date (COD) expected in 2023.
Meanwhile, SSE Renewables is also building the 3.6GW Dogger Bank Wind Farm with development partners Equinor and Eni. Located off the north east coast of England, it will be the world's largest offshore wind farm. Equivalent to the combined total of Phase One projects in Ireland.
While investing more into low carbon technologies and delivering renewable energy than it makes in profit, SSE now employs 1,300 people across its renewables business in the UK and Ireland. This figure represents a 30 per cent increase in just three years and one-in-five of its employees have transitioned from high-carbon careers. The single most important factor referenced by those who pivoted to a career in SSE Renewables was 'environmental considerations', followed by 'the opportunity to work on exciting new projects', and 'better long-term career prospects'.
Experience and skilled resources will be a challenge in the industry and SSE Renewables has a significant skills capacity which can be recycled and moved through projects. "We are hitting the ground running in terms of the development of offshore projects here in Ireland with that experience in our back pocket," Ryan remarks.
Optimism
Looking ahead, the SSE Renewables Director of Development imbues a sense of optimism in the face of the energy trilemma. "It has to be done and we have to find a way to do it," Ryan contends, concluding: "If I am sitting having this same conversation with you in six months' time then it will be a different story, but as is stands, we still have a chance of meeting our 2030 targets. We need to accelerate right now, to keep that chance alive, and deliver for society and future generations. The window is closing on our ability to deliver Ireland's 2030 target for renewable electricity. We have no time to waste."