Renewable energy magazine 2019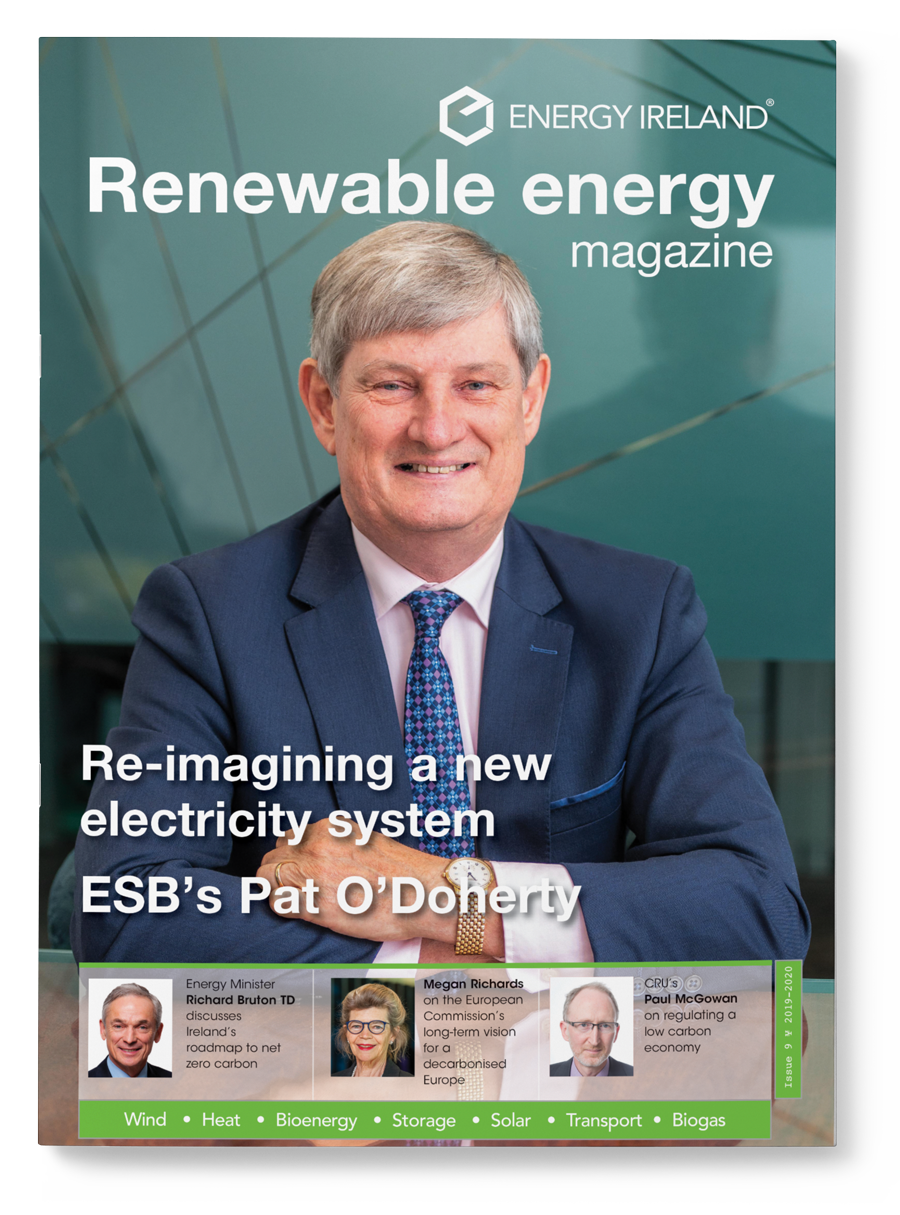 Welcome to the ninth annual Energy Ireland Renewable Energy magazine, which examines the latest developments in renewable energy, North and South. The last year has been a busy one for renewables and with the publication of the Government's Climate Action Plan the focus on renewables will only increase. To date most of the progress has been in the electricity sector with 40 per cent of electricity now coming from renewable sources. The Plan has an ambitious target of 70 per cent of electricity from renewable sources by 2030 and equally ambitious targets for renewables in heat and transport: 950,000 electric vehicles and 600,000 renewable energy heating sources in homes and 25,000 in commercial premises. The out workings of the Climate Action Plan will see a step change in the development of renewables in Ireland over the next decade.
25th November 2019
Minister for Communications, Climate Action and Environment Richard Bruton TD outlines the ambitions of the Government's new plan and discusses the three major measures within the
[…]
25th November 2019
The move to tackle climate change has already spawned a global green industry and Shannon Foynes Port Company is set to become one of the key
[…]
25th November 2019
In November 2018, the European Commission presented its long-term vision for a prosperous, modern, competitive and climate-neutral economy by 2050. The strategy has been encompassed in
[…]
25th November 2019
ESB Chief Executive Pat O'Doherty talks to Owen McQuade about how electricity will be central in decarbonising the economy and how renewables will drive that change.
[…]
25th November 2019
Examining Ireland's climate change approach, Chair of the Climate Change Advisory Council John FitzGerald says there is still a long way to go to achieve carbon
[…]
25th November 2019
Siemens hosted a working lunch in Derry City on road-mapping a zero-carbon future for the North West region. Leo, please outline the zero-carbon strategy for the
[…]
25th November 2019
Gemserv hosted a round table discussion, bringing together the public and private sectors to discuss electric vehicles and the role they will play in combatting climate
[…]
25th November 2019
Paul McGowan, Chair of the Commission for Regulation of Utilities (CRU), discusses the challenge of determining who, in the future, pays to maintain Ireland's electricity grid
[…]
25th November 2019
Denis O'Sullivan, Managing Director of Gas Networks Ireland, talks to Owen McQuade about the energy utility's vision to 2050 that sees a carbon neutral gas network
[…]
25th November 2019
Increased ambition is welcome and a focus on energy efficiency and electrification is essential but a serious discussion on bioenergy and flexibility measures is required if
[…]
25th November 2019
Having started his career in politics as the Research Officer for Northern Ireland's first Green Party MLA, one of Steven Agnew's earliest memories was working on
[…]
25th November 2019
Change is impacting on the international automotive sector at an exponential rate, according to Markus Wilthaner, Associate Partner with McKinsey & Company. The change is taking
[…]
25th November 2019
As Ireland turns its sights to the opportunities of offshore wind energy, new projects in the UK provide a blueprint to maximise the socio-economic impact from
[…]
25th November 2019
The 23rd annual Energy Ireland® was a huge success – once again bringing together Ireland's energy sector in June for two days of debate and networking.
[…]
25th November 2019
From humble beginnings as HV contractors working from the back of their van, Smith Brothers' founders Richard and John Smith are this year celebrating two decades
[…]
25th November 2019
Richard Rodgers, Head of Energy at the Department for the Economy, outlines the push to deliver a long-term energy strategy for Northern Ireland amidst a low-carbon
[…]
25th November 2019
While there has been significant commentary over the past 12 months in relation to the climate emergency including increased awareness of just how real it is,
[…]
25th November 2019
Exploring Ireland's diversifying energy mix and the increasingly prominent role of solar power across the island. Drawn from a range of sectors and government departments, Ireland's
[…]
25th November 2019
How to decarbonise your business, save on fossil fuels and generate an extra revenue stream under the Support Scheme for Renewable Heat. The heat sector in
[…]
25th November 2019
Publication of Ireland's Climate Action Plan to Tackle Climate Breakdown in 2019 represents a significant milestone in Ireland's response to climate change. Phil Hemmingway, SEAI's Head
[…]
25th November 2019
"CPPAs are set to become part of the energy conversation" says Rachel McAllister. According to BloombergNEF, 121 corporations across 21 countries signed Corporate Power Purchase Agreements
[…]
25th November 2019
The International Energy Research Centre's (IERC) Executive Director Tony Day discusses the potential for energy storage in Ireland. The Cork-based IERC was established as a centre
[…]
25th November 2019
It might seem like a long way to 2030, writes David Connolly, CEO of the Irish Wind Energy Association, but whether we hit our Climate Action
[…]
25th November 2019
Sonya Twohig, Managing Director of the European Network of Transmission System Operators for Electricity (Entso-E), discusses how the threat of cyber security now constitutes one of
[…]
25th November 2019
"2020 looks set to be the year in which consumers, businesses and policy makers fully get on board with the drive to decarbonise Ireland's economy and
[…]
25th November 2019
Jon Clipsham, Hydrogen Manager for the European Marine Energy Centre (EMEC), would probably be the first person to argue that the Orkney Islands should be regarded
[…]
25th November 2019
Úna Nic Giolla Choille, Principal Officer with responsibility for electricity and gas regulation at the Department of Communications, Climate Action and Environment, discusses the envisaged evolution
[…]
25th November 2019
Ofgem CEO Dermot Nolan discusses the UK experience of energy markets transition and outlines his desire to see a zero-carbon economy achieved through methods which minimise
[…]
25th November 2019
Kevin Shiels, the Utility Regulator's Director of Retail and Consumer Protection discusses the protection of all consumers amidst energy market evolution. "Thirty years ago, the viewing
[…]
25th November 2019
With the rise of renewable generation, declining renewable energy prices and the drive to decarbonise the energy system, power purchase agreements (PPAs) for power from renewable
[…]
25th November 2019
A truly co-operative ethos can be applied in helping to make this a reality, but projects of this nature must be fully supported by government, says
[…]
25th November 2019
As EirGrid Group picks up the gauntlet in response to the climate crisis, Renewable Energy Magazine speaks to CEO Mark Foley about the organisation's new corporate
[…]
25th November 2019
Acting to reduce greenhouse gas emissions is making its way to the top of the political agenda. The Irish citizens involved in the Assembly on How
[…]
25th November 2019
Supporting renewable energy generation will come at a cost but is a price worth paying, according to the Director of the Energy Policy Research Group (EPRG)
[…]
25th November 2019
Queen's University Belfast's John Barry discusses the journey from declarations of climate emergencies to climate action and just energy transitions on the island of Ireland. In
[…]
25th November 2019
Each week brings fresh news of the urgency of the decarbonisation challenge facing Ireland. Eirgrid, ESB Networks and others are making phenomenal technical progress in increasing
[…]