The International Energy Research Centre's (IERC) Executive Director Tony Day discusses the potential for energy storage in Ireland.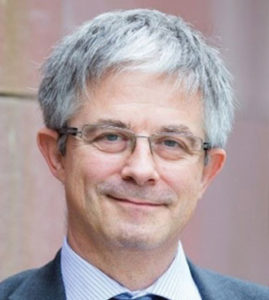 The Cork-based IERC was established as a centre of international excellence in integrated energy systems research. The organisation conducts research in energy efficiency and low carbon energy delivery. Its operational model has been developed to deliver technology and business innovations through deep collaborative partnerships.
Day explains that new and efficient energy storage systems will deliver better network management for Ireland.
"Energy research is becoming much more coordinated in Ireland and the launch of the new climate action plan will help bring the various research strands together in a more meaningful way," he says.
"Energy storage will be one of those technologies that will facilitate the direction of travel for the energy sector as a whole. It will help extend the range and type of generation technologies while reducing carbon dioxide emission levels and capacity investment costs.
"If we need to upgrade the system in order to allow it to carry more electrons or molecules, strategically placed storage will help ameliorate the associated costs."
Day outlines that storage can also help reduce Ireland's dependency on imported energy. In his opinion, this evolving technology will also help to create more jobs and greater revenues for the country as a whole.
"Ireland is leading the way in the development of these commercial opportunities. DS3 is a case in point. On the downside, securing investment for research in these fields can be difficult."
According to Day, storage technologies can be broken down in to a number of categories. These include: chemical; electrical, electrochemical and thermal.
"Some of these technologies allow us to join up gas and electricity networks."
Day explains that different storage systems operate within different time frames. Some are seasonal. Some are diurnal while others operate on a timescale that can be measured in minutes and seconds.
"Analysis in the UK is looking at the relationship between wind availability and temperature. It has pointed to the possibility of not needing to go to seasonal storage, which is extremely expensive."
Commenting on the current structure of the electricity network in Ireland, and other countries, Day says that the distributive investment that has taken place over many years is now serving to hold up the evolution and implementation of many new energy technologies.
"What worked in the past assumed a single direction of flow, where electrons are concerned, with the money from consumers coming back in the opposite direction. Today, all of this is changing. The electrons are moving in all directions and so is the money.
"Traditionally, there has been a lot of resistance from generators, who no longer have a monopoly on how energy is made available. Smart technologies are helping to change this and storage is part of the story."
The academic outlines how the use of new energy storage technologies may evolve in Ireland: "Electricity storage system deliver a number of services on the grid. These include stabilisation, load shifting and balancing. Currently the UK's peak heat demand in winter is five-times that of the country's peak electricity demand. The equivalent figure for Ireland is probably similar.
"If there was to be a sudden shift to electrical heating, the electricity grid would probably melt."
The IERC Director outlines that energy storage systems can come in many different forms but all come with the added benefit of their totally flexible placement within a grid system.
"Flexibility brings with it the option of having various investment options. However, fundamentally, we need to see the evolution of a grid with greater energy storage capacity," he states.
"The UK has plans for 200MW of additional battery storage within the grid system. Drax is planning a similar level of investment while a battery and flywheel option is now operating in County Offaly."
Day discusses the potential for flow batteries. In these systems, the energy is stored in the electrolyte, as opposed to the electrodes. They have a rapid charge and discharge potential while offering the added benefit of being relatively cheap when it comes to increasing energy storage capacity for a given energy output.
"The chemicals in the tanks are vanadium based, for the most part. Flow batteries are extremely versatile. They haven't really taken off up to this point because of the associated expense.
"Compressed air energy storage is another option with significant potential. In these systems, natural and excavated underground salt caverns act as compressed air receivers.
"Compression normally requires heat rejection, with heat input required at re-expansion. A project designed to assess the relevance of this energy storage system is currently underway in Northern Ireland."
Other electricity storage options discussed were the use of pumped heat electrical storage and concentrated solar power (CSP) with molten salt storage. In the first of these, electricity is used to drive a heat pump. A temperature difference is then established between two thermal reservoirs involving argon and gravel. Electricity recovered by reversing heat pump to become a heat engine.
According to Day, CSP with molten salt storage is more economic than batteries stating "it is a technology that will be used in Ireland in the near future".
Day states that the provision of heating systems is a marginal business.
"We talk a lot about electricity. However, heat is at the bottom end of the thermodynamic scale. The marginal value of heat is very low. Yet we use more of it. Heat provision is our largest technical challenge. A case in point is the fact that it is extremely hard to store, without it dispersing.
"Ground source heat pumps work well. They offer the prospect of heat being extracted during the winter period and then stored during the summer months.
"However, there are challenges. For deep pile technologies, there is a requirement for very efficient heat pumps to be used. Combined heat and power only works in tandem with a large thermal store. However, this technology will give way to thermal heat pumps once the carbon factor required to produce electricity falls to below 300 grams of carbon per kilowatt hour and there is every prospect of this happening in Ireland within the foreseeable future."
Turning to hydrogen, the IERC Executive Director says that there are storage issues regarding the use of the gas, stating: "Hydrogen will be part of the story moving forward."
Concluding Day says that IERC is working on a number of energy initiatives throughout Ireland. These include the use of solar PV and battery storage combinations in the Tipperary-based Super Homes project.
"We are also involved in the StoreNet project which is both investigating and demonstrating how a 'virtual' storage model can accommodate a much higher percentage of renewable electricity onto Ireland's national grid."