Cathal Marley, Chief Executive Officer of Gas Networks Ireland, talks to eolas about the company's new strategy and how it is decarbonising the gas network to provide a secure energy future for Irish industry and homes.
The separation of Gas Networks Ireland out of the Ervia Group, and the appointment of a new executive team last year, was the "ideal time to stand back and review our strategy", says CEO Cathal Marley. The new strategy builds on the central role that gas plays in Ireland's energy mix, supplying 30 per cent of energy needs, 40 per cent of all heating requirements, and over 50 per cent of electricity generated from gas.
The gas network has over 720,000 customers ranging in size from residential, commercial to high energy intensive industry. "We are at the heart of Ireland's energy landscape and the challenge is to maintain that position in the future; to do that we have to change," Marley says.
"We are a very proud company. We have been around since the 1970s and there is huge expertise in Gas Networks Ireland in storing and transporting gas. There is a strong appetite to maintain that position."
Marley goes on to articulate Gas Networks Ireland's vision for the future: "Our vision is to take our network of pipelines, which are modern and world class, and transport renewable gases, such as biomethane and green hydrogen. We can repurpose this modern network for Ireland's low carbon future. There are plans in the EU to repurpose over 60 per cent of the existing gas network to hydrogen. We are very well positioned in Ireland to do this."
The company has already been though a major transformation in terms of the product that it stores and transports. Before natural gas was discovered off the County Cork coast in the 1970s, town gas produced from coal was transported in the gas network. The gas industry has a long history in Ireland. The first streetlights in Ireland were the gas lights in Dublin's Phoenix Park which are still in place.
Natural gas from the Kinsale field revolutionised the Irish economy, according to Marley. "It was cleaner, abundant and affordable. We have gone from town gas to natural gas and the next evolution is the move to renewable gases. The journey has always been towards a more secure, cleaner future."
"We have a legacy of expertise on storing and transporting gas which has been built up over many years and we take this role very seriously. It is this expertise which will make us the trusted company to manage renewable gases now and in the future."
Cathal Marley, Chief Executive Officer, Gas Networks Ireland
Marley says the first strategic objective is to have a resilient network. A strong and secure gas network facilitates the introduction of more renewable electricity from solar and wind. These sources of energy are intermittent, and gas is the key partner energy source for electricity generation when renewables are not delivering the energy required, as it can supply power stations instantly.
"The backbone of the energy system for some time will be our network," Marley says. Abundant offshore wind producing green hydrogen will need the network to transport the hydrogen to end users and also subsequently for any hydrogen exports via the existing interconnector.
The next strategic objective focuses on the needs of its customers. "Customers are looking for a sustainable future, and this is a particular challenge for our industrial and commercial customers. We have to go on a journey with them and transition together to that sustainable energy future." This trend is particularly prevalent with large energy users, including US and European inward investors who want to move to renewable gas to meet their energy needs.
Another key element of the GNI strategy is how the integrated energy system of the future links renewable electricity and renewable gases. In developing renewable gases, Gas Networks Ireland will be partnering with a wide variety of organisations for a very different energy system. A critical future role of the gas system will be providing back-up for intermittent renewables and most critically being there to meet peak demand whenever it is needed. As electricity demand increases, so too does the extent of peak demand deficits which need to be met by natural gas now and renewable gases in the future. Gas Networks Ireland will be there to ensure the security of Ireland's energy supply.
"Underpinning these core objectives will be our people, our operational excellence, and our financial strength. Because we have kept investing in modernising our network we are in a strong financial position, and it makes sense to leverage that in the current economic climate to deliver on Ireland's climate change targets."
"Underpinning these core objectives will be our people, our operational excellence, and our financial strength. Because we have kept investing in modernising our network we are in a strong financial position, and it makes sense to leverage that in the current economic climate to deliver on Ireland's climate change targets," explains Marley.
Energy security and gas storage
In some of the media coverage on energy security, the issues of gas supply are conflated with electricity generation adequacy. Mainland Europe has an immediate challenge with gas supply, but Ireland gets most of its gas from the UK and Norway and "as our latest winter outlook shows, we do not envisage any disruption to the winter months," according to Marley. "In the medium term, security of gas supply does need to be addressed."
Gas Networks Ireland had the foresight to consider security of supply issues in the context of the Moffat gas interconnector with Britain. "Some years ago, we looked well ahead to twin our interconnector from Britain. It is now effectively two independent pipelines; in case one goes down."
The twinning of the interconnector also gives the option in the future of exporting hydrogen at the same time as importing gas, "which will help in Ireland's energy transition to net zero carbon". The Corrib field currently supplies 25 per cent of Ireland's gas needs and this will soon reduce to 10 per cent.
An important aspect of energy security is diversification of supply. "It is important that we do not just focus on renewable electricity. Biomethane is an immediate opportunity for an indigenous renewable energy source that can be delivered relatively quickly. Producing green hydrogen using offshore wind energy will take some time to reach the scale needed, however the technology for biomethane is already available." Gas Networks Ireland already transports biomethane through its network with an injection point at Cush, County Kildare and another large renewable gas injection point planned for Mitchelstown, County Cork. The industry in Ireland is at the cusp of rapid growth.
Marley cites the example of Denmark, which in the space of 10 years is supplying approximately 40 per cent of its gas needs from biomethane production.
Whilst resilience of the Gas Networks Ireland network and developing biomethane are both important elements of Ireland's energy security, a third, "and critically important" element is gas storage. Ireland is almost unique in Europe in having no strategic gas storage facilities. "We have oil reserves but no gas reserves, despite gas supplying 30 per cent of our primary energy needs. That needs to be addressed as a matter of urgency," Marley says. "The Government are currently in consultation on its Security of Supply Review and is considering a number of options to address the significant risk of an interruption to our gas supplies either through economic or physical disruption factors. These have never been more real given the current war in Ukraine. The key criteria in assessing security of supply options are financing, meeting climate change policy, and the proposal actually delivering the security of supply required. Gas Networks Ireland has submitted a proposal for an onshore strategic storage facility which we believe meet all these criteria, delivering immediate security of supply at appropriate cost and being future proofed to transition to renewable gas storage in the future. We await the Government's full review of the options and will work with them on ensuring a successful implementation of the selected option."
Biomethane
Biomethane molecules are identical to natural gas molecules. "It's just produced via a different route, from waste food, slurry, or grass. It sits well with Ireland's agricultural economy and offers a solution to deal with the sector's waste. It is circular, taking slurry off the land and returning clean digestate from the anaerobic digestion process, producing a zero net carbon gas," explains Marley.
Ireland has the biggest potential in Europe for producing biomethane, but the sector here is the least developed. There is now a consensus in the energy sector for supporting biomethane and Ireland has a target of 5.7 TWh biomethane per year.
This target has been driven by European policymakers and will most likely be increased with the loss of Russian gas to Europe. "There is usually a push from government on climate action, whereas with biomethane the push is coming from the industry players themselves." Gas Networks Ireland has had over 130 connection enquiries from biomethane producers, and the volumes being forecast would easily meet the national target.
However, the industry is waiting to see what policies and incentives will be announced by government. "We are working closely with producers to see what we need to do to have biomethane injected into our network at scale. There is a groundswell of interest, and a wall of financing available but the sector needs support similar to that given to the fledgling wind energy sector. If people are going to invest, they need to see a secure revenue stream." There will be a renewable heat obligation (RHO) consultation starting in 2023, with the obligation most likely coming into operation in 2024. While this will create an obligation to take renewable gas, it does not give price certainty or capital supports for investors. Nevertheless, it will provide very positive signals to the market and is to be welcomed.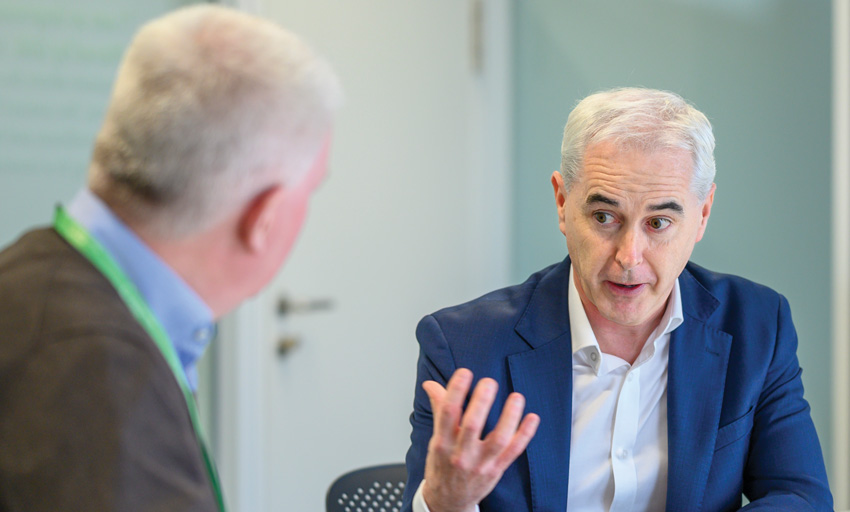 Hydrogen
In Ireland, the focus has been on the green hydrogen route, generating hydrogen using renewable electricity. Gas Networks Ireland's role is to transport gas, whether that is natural gas, biomethane or hydrogen or a blend of those gases.
"First and foremost, we are addressing the technical safety aspects, making sure our network can carry hydrogen safely, including hydrogen blended with methane." Gas Networks Ireland is currently developing safety standards and protocols and engaging with the Commission for the Regulation of Utilities (CRU) to ensure that these gases can enter its pipelines and be used safely by end users. "We have a legacy of expertise on storing and transporting gas which has been built up over many years and we take this role very seriously. It is this expertise which will make us the trusted company to manage renewable gases now and in the future."
The first hydrogen into the Irish network will most likely come from Britain through the Moffat interconnector rather than from hydrogen produced from offshore wind energy. "Hydrogen will come at us sooner rather than later and we need to give our customers confidence that this can be done safely. Over the last year, we have been working with University College Dublin's Energy Institute (UCDEI) and Ali Ekhtiari on a research project at our Network Innovation Centre to investigate the potential use of hydrogen in Ireland. The results of that research have just been published and we now know we can blend 20 per cent hydrogen into our distribution system safely with no impact on customers. That is a minimum level and we are confident we can cope with much higher percentages of hydrogen.
"Our pipelines are very modern, made from polyethylene, and we believe we can repurpose all our pipelines to carry hydrogen. We just need to work out how we transition from methane to hydrogen."
Future
Looking to the future, Marley is optimistic but strikes a note of realism.
"The challenge for us is to mobilise our staff and stakeholders to realise that we are at another point of change in what we do. Since the 1970s, natural gas has driven Ireland's energy system.
"If we do not supply gas safely and securely during the energy transition, then renewables will fail on the back of a lack of energy security. We can roll out renewables with confidence if we also have a secure alternative energy supply. We have to perform for today and transform to a future with renewable gases. While we are extremely proud of our past and the critical role natural gas has played in a growing economy, we are keenly aware that this is a time of change and that renewable gases are the future. We intend to keep Ireland's energy moving and remain at the heart of Ireland's energy future," concludes Marley.