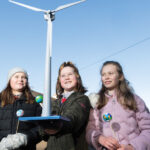 Bringing communities on our journey towards a world fully powered by renewable energy
9th October 2023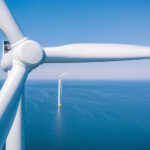 Offshore wind auction approves 3GW
9th October 2023
Katy McNeil, Head of the Scottish Government's Ireland Office, outlines the details of Scotland's growing hydrogen value chain, the scope for collaboration between Ireland and Scotland, and the lessons learned during Scotland's hydrogen journey.
Contextualising the Scottish decarbonisation journey, McNeil recalls the first decarbonisation strategy under then-First Minister, Jack McConnell, which initially targeted 40 per cent of Scotland's electricity to be powered by renewable energy sources by 2020, a target which she remembers was initially regarded as "too ambitious".
In 2011, a new administration in Scotland increased the renewable electricity target to 100 per cent by 2020. McNeil recounts: "Similarly, at that time, critics suggested that our ambition was 10 years too premature."
Although the Scottish Government did ultimately miss its target, its success in delivering 97 per cent renewable-powered electricity by 2020 was nevertheless widely acclaimed.
Scottish Hydrogen Action Plan
In December 2022, the Scottish Government announced its Hydrogen Action Plan. As the nation continues to transition its energy model away from oil and gas, McNeil explains that hydrogen production and exportation is "a big opportunity for [Scotland] economically, as well as in terms of clean air and energy independence".
The Hydrogen Action Plan sets an ambition of 5GW of installed hydrogen production by 2030, and 25GW by 2045.
McNeil explains: "This could add in the region of £5 billion plus per year to the Scottish economy. Furthermore, our modelling suggests that we could create anything between 70,000 and 300,000 jobs in the hydrogen sector alone."
"People often observe that the gas interconnection is between Ireland and the UK, but to be more specific, it is between Ireland and Scotland." Katy McNeil, Head of the Scottish Government's Ireland Office
Identifying hydrogen as the "gas for the future", McNeil lists off its projected uses including the role it can play in replacing carbon-emitting internal combustion engines.
"We are expecting hydrogen to play a significant role in high-temperature industrial heat, in refining, as chemical feedstock, and in distilleries. We also think that a significant proportion of the hydrogen produced in Scotland will be exported via pipeline to the rest of the UK and to Europe. We see the role that hydrogen could be playing in maritime and in the aviation industry, and in heavy goods transport as well."
As hydrogen is still a new and emerging sector with low levels of private sector confidence, an additional key strand of the Scottish Hydrogen Action Plan is establishing certainty for private investment.
Taking the initial investment steps, McNeil outlines how the Scottish Government is pump-priming investment with a long-term vision for attracting private investment: "There is an emerging energy technologies fund with £180 million of investment available up to the 2025/26 financial year. Of that, a £100 million capital programme is available for hydrogen projects."
Celtic collaboration
Providing an overview of the ongoing ScotWind developments, McNeil states: "We are already having conversations with [Ireland's] Department of the Environment, Climate and Communications about how we share the learning about how we went through our offshore leases.
"By recognising the potential Scotland has and how we could use and develop it, we began to think about how we would develop aligning hydrogen policies, assessments, and action plans."
Speaking prior to the publication of the National Hydrogen Strategy, McNeil expressed optimism for the prospects of hydrogen production in Ireland.
"Scotland and Ireland both have the potential to be major producers and exporters of hydrogen. We in the Scottish Government are here in Ireland to foster and encourage that and to say that we would like to talk to you about how we develop that collaboration, how we can build those partnerships, and how we can help each other in supporting the development of that network.
"People often observe that the gas interconnection is between Ireland and the UK, but to be more specific, it is between Ireland and Scotland. We are keen to determine how we can connect Ireland's east coast into Scotland's hydrogen backbone, and how can we help Ireland create a bridge into the northern European market."
Lessons learned
Overall, McNeil identifies four broad lessons which emerged during Scotland's hydrogen journey. They are:
1. the importance of location;
2. the importance of pace;
3. the importance of whole systems thinking; and
4. the importance of studying demonstration projects which can help give us the confidence to develop at scale.
Demonstration projects in Scotland have been particularly prevalent in Aberdeen, which she describes as "the world's most advanced hydrogen city".
"There are two publicly available hydrogen refuelling stations in Aberdeen and there are 65 hydrogen vehicles on the streets, including 25 buses. The city is primed for more developments as an energy transition zone, and there are other ambitious projects which are demonstrating offshore hydrogen production.
"Scotland's decarbonisation must continue to move at an unprecedented pace that spans our whole economy, allied with energy demand reduction. In green hydrogen, we have a huge opportunity; one that we know is shared with Ireland."