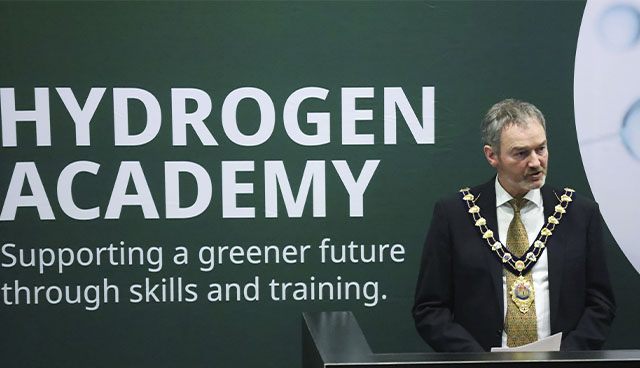 Wheels in motion at Hydrogen Training Academy
28th June 2022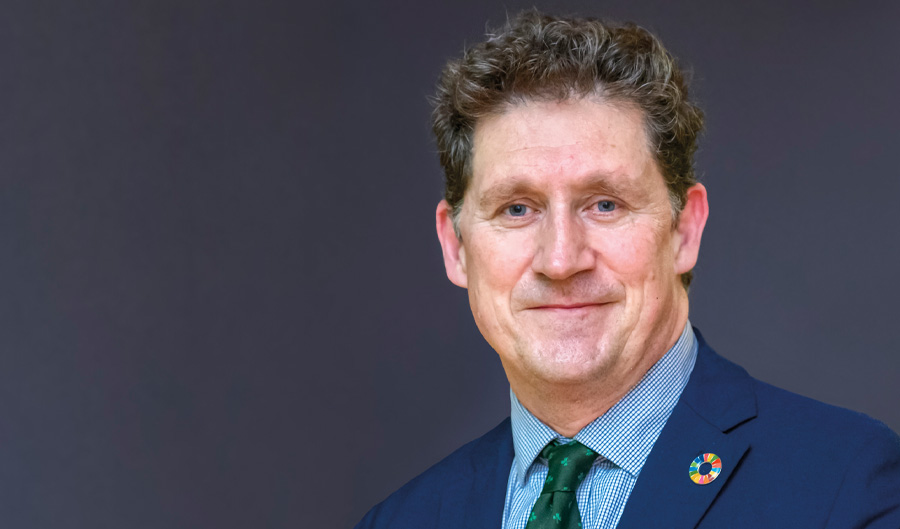 Minister Eamon Ryan TD: 'We are at a moment of change'
12th October 2022
Queen's University Belfast are leading a project aiming to develop zero carbon cooperatives across local council areas in Northern Ireland, aiming to not only help solve many of Northern Ireland's energy supply challenges but also deliver wider benefits for the economy and the environment.
Queen's University Belfast are leading a project aiming to bring together key stakeholders operating at a local level to deliver innovative solutions to tackle Northern Ireland's decarbonisation challenge.
Northern Ireland's low carbon and renewable energy sector currently generates around £1 billion to the local economy and employs people equivalent to almost 6,000 full time jobs but The Path to Net Zero Energy, Northern Ireland's forward looking energy strategy, published by the Department for the Economy, has set out an ambition to double the output of the sector to £2 billion by 2030.
Northern Ireland is a disproportionately large carbon emitter within a UK context. It accounts for over 4 per cent of UK greenhouse gas emissions, despite accounting for less than 3 per cent of the UK's total population. Part of the challenge in Northern Ireland is a disproportionately larger agriculture sector than many of its neighbouring countries. It is estimated that some 27 per cent of all greenhouse gas emissions come from the sector, significantly higher than the two next highest emitters in the form of transport (23 per cent) and energy supply (15 per cent).
However, it is widely accepted that meeting a cost-effective path to decarbonisation in Northern Ireland will require action across all sectors of the economy and a more joined-up approach.
"When you consider the dramatic shift that is going to be required to meet the challenges of decarbonisation, you must also consider the sizeable opportunity that exists in shaping that change."
Professor David Rooney
This project is funded by the UK Government through the UK Community Renewal Fund, Queen's University Belfast are seeking to act as enablers of local businesses and communities in each local council to research, design, and deliver solutions specific to their location and which will drive societal, economic, and environmental benefits.
David Rooney, Professor of Chemical Engineering and Dean of Internationalisation and Reputation at the School of Chemistry and Chemical Engineering, who is leading the Occident project, says: "When we look at the high-level ambitions for decarbonisation, it is often easy to forget that in order to achieve what is necessary, millions of people will have to come together to drive change.
"When you consider the dramatic shift that is going to be required to meet the challenges of decarbonisation, you must also consider the sizeable opportunity that exists in shaping that change. Collective engagement is the only solution and so through this programme, we are seeking to actively encourage partnership working that can provide mutual benefits for all involved and for the environment."
Outlining his belief that the UK Government's Build Back Greener net zero strategy, which highlights only one ongoing project in Northern Ireland in the form of Wrightbus's development of hydrogen-fuelled technology, is not reflective of the volume of green innovation taking place daily in council areas throughout Northern Ireland, Rooney says that greater collaboration between stakeholders can push Northern Ireland to the forefront of decarbonisation.
"If we step away from the mindset of Northern Ireland making only its fair share of the UK contribution, I think the potential exists for us to go further and even be negative in carbon. The question is not whether we have the resource or ability to do so, because we do. The question is really, can we adequately support people to be the drivers of change."
Rooney stresses the point that a single model zero-carbon community will not fit all situations, and so specific solutions for each council area will be required. To this end, he emphasises that the Occident project is not about delivering pre-defined pathways, but rather about enabling and supporting local stakeholders to collaborate to deliver net zero solutions.
A zero-carbon community should be prosperous, sustainable, and near energy independent while generating almost no pollution or waste for disposal.
Achievement will see industry and agriculture benefit through:
• Sale of waste for reuse
• Removal of waste disposal costs
• Development of new business opportunities
• Prevention or reduction of carbon taxes and potentially development of carbon offsets
• Reduced risk of pollution and the cost of mitigation
• Lower risk of external energy price shocks
The importance of fostering local innovation can be seen in Northern Ireland's unique decarbonisation challenge. Unlike the rest of the UK, the region does not have large clusters of industry and power generators, meaning only 17 per cent of carbon emissions come from major emitters in the region.
The necessity for local innovation can be seen further in previous research done by the Bryden Centre at Queen's University Belfast on carbon capture, utilisation, and storage potential in Northern Ireland. The report sets out that as well as an absence of industrial clusters present in the UK, Northern Ireland also lacks access to high capacity, long-term geological storage, which exists in the North Sea. The report highlighted the sizeable costs that would come with implementing large scale carbon capture for Northern Ireland, not least, reducing the competitiveness of large emitting businesses.
In contrast, alternatives to carbon capture and geological storage are rapidly developing, and, as the Brydon report states, "are likely to offer a more financially attractive route to carbon sequestration in Northern Ireland". Outlining potential alternative carbon sequestration or offsetting using Northern Ireland's natural resources to be explored, the research points to:
• increased utilisation of Northern Ireland's land and marine assets to sequester CO2 via nature-based solutions;
• coupling the use of captured CO2, nutrient rich agricultural wastes, and renewable energy to recycle atmospheric carbon to a range of agri-products;
• investigate regionally derived carbon products for longer term carbon sequestration, including timber for construction and/or the production of biochar from forestry residues and other organic wastes followed by land spreading to sequester carbon in the soil; and
• maximise the energy value of biomass resources for conversion to thermal or electrical energy.
Cooperative
Outlining the concept of a zero-carbon cooperative, he says that rethinking local renewable energy use and waste management can accelerate change for local benefit and create opportunities to deliver new products, heat and green electricity, carbon removal, and economic growth.
Such a cooperative can be a partnership between communities of local industry, business, farmers, and people. Together this community can cooperatively solve many local challenges in energy and the wider environment. Combining these solutions will greatly reduce waste, greenhouse gas emissions, and pollution whilst creating a prosperous local economy with improved health and wellbeing for everyone."
The concept of the Occident project was well received in Fermanagh, the first of many council areas in which Queen's aim to initiate local engagement to help foster collaborative innovations.
In 2021, Fermanagh and Omagh District Council, the largest by area of Northern Ireland's 11 local authorities, published its first Climate Change and Sustainable Development Strategy and in October of the same year, the Council approved its Climate Change and Sustainable Development Action Plan detailing the actions including efforts on reducing council emissions in areas such as energy and buildings, resource management, transport, and land use.
"Through the Skills Academy we are looking at how we can build technical capacity on a regional basis and assist in the implementation of new green technologies."
Andrew Norton
Speaking at the event, Chair of Fermanagh and Omagh District Council, Councillor Errol Thompson, said: "As the first Council to publish a Climate Change and Sustainable Development Strategy, the Council is delighted to be a partner in this project and to join with representatives from across all sectors to achieve the vision of our Climate Change Strategy, which is that the Fermanagh and Omagh district is inclusive, sustainable, resilient, and competent. By working together, we can accelerate the transition to net zero, build climate resilience and grow a sustainable economy.
"Our Climate Change Strategy and accompanying
Skills
Alongside enabling zero carbon cooperatives, as part of the project, Queen's University Belfast are also seeking to engage on the skills development needed to develop a sustainable future. The university have been funded to look at the needs of the economy and scope a Skills Academy, working alongside Further Education delivery partners on a regional basis to support industry networks.
Andrew Norton, Project Manager for the Net-Zero Skills Academy points out that by the end of 2022, it is expected that 42 per cent of core skills required to perform existing jobs are expected to change.
"Therefore, it is important that we can increase technical capacity and innovation skills with a regional focus, working with industry, education, and local councils," he explains.
Norton points out that an existing linear approach to education may not be best suited to the levels of adaptation that will be required to decarbonise many industries and sectors.
"Adaptation is best met through a culture of life-long learning and continuing professional development (CPD). What we are aiming to do is consider emerging and rapidly evolving green technologies and how they can influence the way we look at education and how that will support a net zero future.
"Through the Skills Academy we are looking at how we can build technical capacity on a regional basis and assist in the implementation of new green technologies.
"It is important that when designing a net zero cooperative, that consideration is also given to building in innovation training, facilitating the integration of new green technologies into current services."
Professor David Rooney, Faculty of Engineering and Physical Sciences
D.Rooney@qub.ac.uk
Andrew Norton, Net-Zero Skills Academy
a.norton@qub.ac.uk
The UK Community Renewal Fund is a UK Government programme for 2021/22. This aims to support people and communities most in need across the UK to pilot programmes and new approaches to prepare for the UK Shared Prosperity Fund. It invests in skills, community and place, local business, and supporting people into employment. For more information, visit https://www.gov.uk/government/publications/uk-community-renewal-fund-prospectus