Although wind projects were the largest beneficiaries of the results of the first auction under the new Renewable Energy Support Scheme (RESS-1) support for solar signalled a clear shift from aspiration to action in reaching ambitious renewable electricity targets.
While much has been spoken about the need for Ireland to diversify its renewable energy mix for electricity generation in recent years, the emergence of the first grid-scale solar projects to soon be connected to the system, signalled the first major step change in a support mechanism to further this policy.
The RESS-1 confirmed what many already understood, that Ireland's successes in onshore wind generation, facilitating greater levels of renewables on the electricity system, will continue to form the backbone of ambitions for greater levels of penetration out to 2030 and 2050.
However, it was the emergence of solar projects which grabbed most of the attention with 63 projects now set to be connected to the grid network over the next number of years.
The Climate Action Bill, emanating from the recent Programme for Government, increased Ireland's ambitions in relation to carbon emissions and reaffirmed the 2019 Climate Action Plan's target of meeting 70 per cent of electricity demand from renewables by 2030.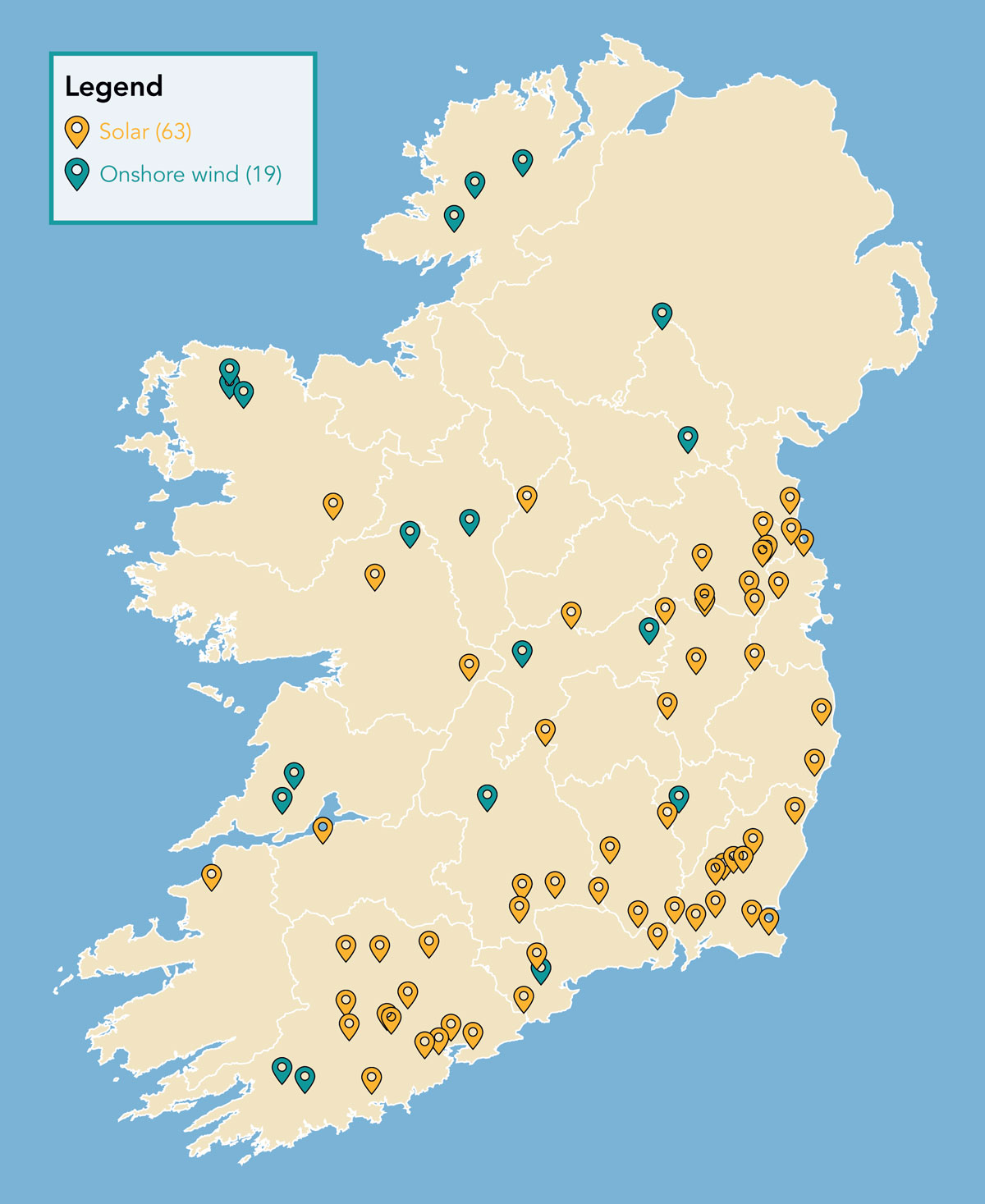 The Climate Action Plan outlined that to achieve a 70 per cent target, an additional 4,000MW of onshore wind would need to be connected and above 1,500MW of solar energy.
The RESS scheme was established to support the development of renewable, funded by the Public Service Obligation (PSO) levy. The auction system enables renewable generators to compete for contracts by bidding in a price for the power they can provide, helping to deliver lower prices. The successful projects retain support for approximately 15 years.
A total of 114 projects applied to participate in the RESS-1 qualification process with 109 projects, including eight community projects, qualified, with 82 projects in total deemed successful.
A total of 19 new wind farms (479MW of onshore wind), generating 1,469 GWh of energy were successful. The 63 new solar farms (796MW) that were successful will generate 767 GWh. Included in these projects were seven successful community-led projects.
The prices are significantly lower that the support price offered under the current REFIIT scheme, which is €80.25 per MWh and index linked. As Contracts For Difference (CFDs), it also means that a better price obtained on the wholesale market than the price obtained under RESS would see any excess returned to the PSO fund.
The frequency of future RESS auctions is dependent on the renewable electricity project supply pipeline. It is envisaged that a minimum of four auctions will occur between 2020 and 2025 to deliver on the 2030 targets.