Bord na Móna's Head of Renewable Energy, John Reilly, and Ocean Winds' Country manager for Ireland, Dan Finch, sit down with eolas Magazine to discuss their new, long-term offshore wind partnership.
Over the last decade, Bord na Móna has evolved. Pivoting away from its former identity as a fossil fuel company, it has redoubled its commitment to Ireland's energy security and emerged as a leading generator of renewable electricity in the Irish market.
Natural progression
Established to help secure the State's energy future, Bord na Móna is approaching 90 years since its foundation in 1934. "For much of that time, we pursued the energy security objective in a way that was very beneficial to the country," Reilly, the Head of Renewable Energy outlines. "However, this was primarily achieved through the use of a fossil fuel."
"Tapping into the vast offshore wind resource is the next frontier of energy security in Ireland
John Reilly, Head of Renewable Energy, Bord na Móna
Consolidating on efforts to repurpose its peatlands and deliver onshore wind development, Bord na Móna recently made a logical leap forward in its renewable energy journey, breaking new ground in offshore wind energy development.
"Tapping into the vast offshore wind resource is the next frontier of energy security in Ireland, making this development a natural progression for Bord na Móna," Reilly reflects.
"Ireland's offshore wind is a natural resource that is the envy of many other countries. We must leverage its potential to both advance our energy independence and to deliver a socioeconomic dividend. Consider, for instance, the benefit that onshore wind has delivered for Ireland. Offshore wind will deliver this several times over."
Joint venture
Noting that Bord na Móna had no intention of entering the offshore wind sector alone, Reilly explains that the semi-state instead sought out an international partner.
"The delivery of our offshore wind energy ambition is contingent on the assistance of experienced international players. Ocean Winds, as an international energy player of repute, brings real experience in terms of offshore wind project delivery that we do not have," he reasons.
At the same time, Ocean Winds – a strategic alliance between French and Portuguese energy leaders ENGIE and EDP Renewables – was considering a move into the Irish market. "The timing was perfect," Reilly remarks, adding: "We began an engagement with Ocean Winds which has ultimately led to this exciting long-term partnership."
Given the growth in Ireland's offshore wind energy sector, and the pursuit of floating offshore opportunities, Ocean Winds' international experience and long-term ambition was "key to why we selected it as our joint venture partner here".
Formally launched with then-Tánaiste Leo Varadkar TD in late November 2022, the new offshore wind partnership will see Bord na Móna and Ocean Winds assume co-ownership of newly identified and developed offshore wind energy opportunities around the Irish coast.
Initial projects
Initial focus of the joint venture will centre on two potential projects – Réalt na Mara and Celtic Horizon. Each is a fixed-bottom project with the former located in the Irish Sea, off the coast of Dublin and Wicklow, and the latter in the Celtic Sea, off the coast of Wexford and Waterford. Each project has been publicly launched, and engagement initiated with local communities, stakeholders, and the fishing industry.
"Through the initial engagement process, we have begun to explain what is involved in an offshore wind energy project. People have some concept of the turbines. However, we must explain how each project is built, how it is operated, how long it is operated for, how it is maintained and operated over a 25-year or 30-year period, and how it is decommissioned after its lifespan is complete. At each stage, it is important to listen to stakeholders and what they have to say," explains Dan Finch, Country manager for Ireland, Ocean Winds, who has almost 20 years' experience of the offshore wind stakeholder engagement process.
Preliminary figures indicate that Réalt na Mara and Celtic Horizon have the potential to generate up to 1.6GW and 700MW respectively, producing a combined capacity of 2.3GW and providing renewable electricity for up to 2.1 million homes. However, reiterating the necessity to complete stakeholder discussions, Finch advises that this figure is provisional.
"These projects will be refined as we go through design, development, and layout, considering the natural environment, fishing, and navigation. This will determine whether they are reduced, what size of machines we use, and what technology is available," he states.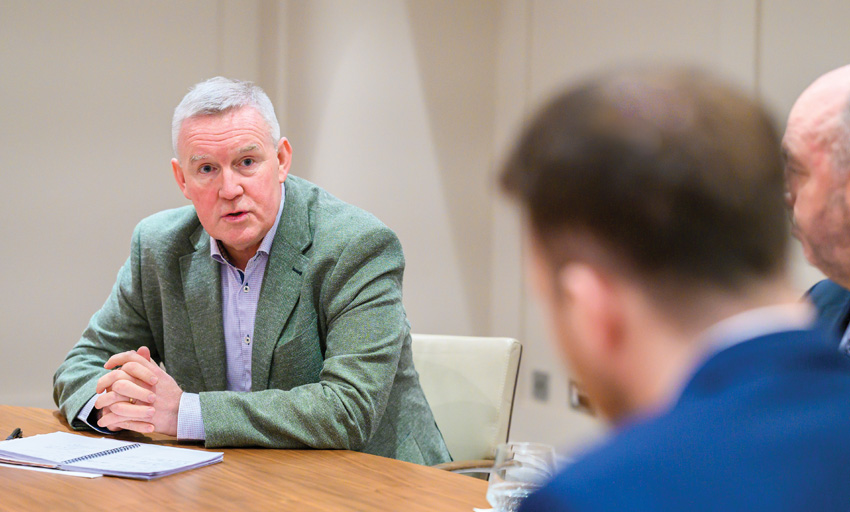 Ocean Winds' experience
Ocean Winds has an impressive record of offshore wind energy development, with an existing portfolio of 14 offshore wind farms in seven countries, totalling 14.6GW of gross capacity, of which 1.5GW is already in operation.
Describing the close alignment between Bord na Móna and Ocean Winds, Finch emphasises the synergy of ambition within the new partnership. In its capacity as a leading international offshore wind energy expert, Ocean Winds' is defined by its technical, consenting, development, and procurement experience. Simultaneously, this experience is complemented by Bord na Móna's stakeholder engagement legacy and innate understanding of the geography, culture, and governmental structures of Ireland.
"An organisation like Bord na Móna is a perfect fit for Ocean Winds," Finch determines, adding: "The experience that Bord na Móna has acquired – developing major infrastructure projects in Ireland – over almost 90 years, is vital to us. Likewise, the relationships that Bord na Móna has established with government, communities, and other stakeholders is crucial."
Emulating Scotland
While Ocean Winds' international operations are fundamental to the joint venture, both Reilly and Finch emphasise the significance of Ocean Winds' experience in the Scottish offshore wind market as most comparable to Ireland. This is characterised by similarities in geography, climate, culture, grid networks, load centres, and the fact that projects are very dispersed across rural areas.
"Offshore wind energy is critical to Ireland's ambition of becoming net zero by 2050, and we are really looking forward to playing our part."
While acknowledging that "it is not simply a case of directly transposing everything that has been achieved in Scotland", Reilly contends that "it is apparent that Ireland will not have to reinvent the wheel".
In Scotland, he illustrates, the most striking success of the offshore wind energy sector has been the revitalisation of coastal communities. "Over the last decade, Scotland has accomplished an incredible amount from a renewable energy perspective. That is what Ireland should be aspiring to achieve," he observes.
Socioeconomic benefits
Given Ireland's target of 7GW of installed offshore wind capacity by 2030, Bord na Móna is keen to seize the opportunity to deliver on its own commitment to enhanced renewable energy development.
As an advocate for the energy transition, in partnership with Ocean Winds, there is a shared acknowledgement that the public engagement must be central to its offshore wind projects.
"As exhibited by Ocean Winds' success in Scotland and beyond, a crucial element of stakeholder engagement is articulating the benefits that offshore wind energy will bring to the State, its economy, and its citizens," the Head of Renewable Energy insists.
"Réalt na Mara and Celtic Horizon represent two very significant infrastructure builds and will provide significant employment in the first instance. The economic dividend, particularly in rural Ireland, cannot be underestimated. Everything from the need to accommodate workers to the demand for various services they require will act as an economic catalyst. That will be replicated multiple times over in coastal communities.
"Once the industry is established and begins to evolve at pace, ports right around the coast will benefit from a significant upgrade as they support the deployment of offshore wind at significant scale. During our visit to the Moray East Offshore Windfarm in Scotland, for instance, it was incredible to see the number of people involved in the marine economy all their lives – such as fishermen – and have now reskilled to align their careers with the burgeoning offshore wind sector."
Delivery by 2030
While both Réalt na Mara and Celtic Horizon are live projects, with much groundwork already in place, Bord na Móna's teams are now working on preparatory work for Marine Area Consent (MAC) applications.
"There are lots of influential players developing projects in Irish waters. That is going to be a competitive process," Reilly acknowledges, adding: "But Bord na Móna is looking forward to playing its part, alongside Ocean Winds. Both projects are very strong and, ultimately, we do believe that one of them will be delivered and operational by 2030. That is the immediate aim of our teams."
Overarching vision
Ireland's offshore wind resource has vast potential and Bord na Móna is seeking to ensure that offshore wind energy development becomes a central component of its evolving renewable energy asset portfolio as soon as possible.
However, as one of Ireland's oldest semi-states, it does not underestimate the challenge. "Delivering energy infrastructure of any type is challenging," Reilly concedes. "Both Bord na Móna and Ocean Winds are cognisant of the challenges that we face, but what we have observed over the last 12 months is renewed political recognition – alongside enhanced public awareness – of the importance of energy security to the State.
"Every year there are publications about Ireland's energy security and that is appropriate. However, the last 12 months – especially given the terrible events in Ukraine – have really brought security of supply to the forefront of the public consciousness. This joint venture is designed to bring indigenous energy into Ireland's energy mix at a significant scale, reducing exposure to imported energy and global energy price fluctuations.
"It is not just about electricity. The offshore wind sector at scale can drive renewable energy across other sectors, such as heat and transport. Offshore wind energy is critical to Ireland's ambition of becoming net zero by 2050, and we are really looking forward to playing our part," Reilly concludes.