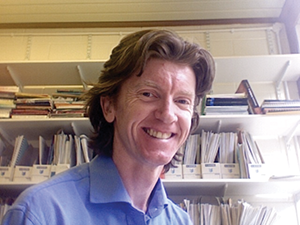 Social scientist Patrick Devine-Wright talks about why Ireland's energy transformation needs to keep the public involved.
An energy system transformation is also a societal transformation and not simply a change of technology, fuel or energy resources, says social scientist Patrick Devine-Wright.
"It's a change to ways of life, it's a change to ways of behaviour," he explains. "It isn't just a political, economic or technological issue. It is also a cultural, a psychological and a spatial issue as well.
"Where do these technologies go? Who has to live next door to 'X' kind of technology or infrastructure? And how acceptable will that prove to be to that community?" queries the University of Exeter academic.
In Germany, Energiewende is the title given to the country's multidimensional approach to energy transformation. Devine-Wright says that while it is very easy for energy analysts to get categorised into discussing the supply side or the demand side and consumer behaviour, any energy solution in Ireland that will meet challenging carbon production targets has to do both. He highlights that it has to be as much about shifting electricity demands to different times of day and reducing energy consumption as it is about decarbonising the energy supply system.
"When we think about taking carbon out of the energy system, it's quite clear that there are many different ways of doing this. There is no one best solution."
He poses the question: "How do we choose and what are the values that drive our choices?" before adding, "Those are not technical issues or economic issues, they are social issues and cultural issues.
"To me, it isn't just a choice between biomass and wind, or between wind and hydrogen. It's about the kind of system that we want."
Community involvement
"Any successful energy transformation in Ireland would need to recognise both economic and non-economic values of places and landscapes," Devine-Wright says. It's about the ordinary places which are extraordinary to those who live there, he explains.
It involves a different way of seeing affected communities "not just as protectors of their own selfish property values but as people who are experts of that environment." Having lived in an area for generations, locals feel like custodians of the places and landscapes they call home.
Renewable energy infrastructure tends to follow a "bespoke, standardised design" which results in countryside that looks industrialised or globalised. "This can diminish the sense of distinctiveness which may be there already and matters to people because it clings to their sense of identity."
But this doesn't have to be the case. Devine-Wright gives the example of The Dancing Ladies of Gigha, three wind turbines located on the island off the west coast of Scotland. Called Creideas, Dóchas and Carthannas (Scots Gaelic for Faith, Hope and Charity), the community energy project was created by the people. "They have a personal relationship, a stake in those energy technologies."
Understanding and tackling NIMBYism
Generally the involvement of communities is least, the larger the technology of scale, says Devine-Wright. "Hence the importance of societal and community engagement – not after the plan has been made but before, during, the whole way through.
"It is increasingly recognised that you have to bring the public with you in order to have an energy system transformation."
Devine-Wright says better ways need to be found to do this. He adds that there is an obligation on energy industry companies and other stakeholders to think about and to question the assumptions that they hold about the communities affected by their projects.
The Not In My Back Yard (NIMBY) concept is the best example of that, the academic says. "It's a presumption about why people act in certain ways, why they object, why they are difficult at certain times."
He queries the kind of methods used to involve and listen to people, why they are chosen, and what evidence there is to back up the choices used.
"There's a critical issue about timing here. Having interviewed developers, having spoken to developers, they are wary of putting their heads above the parapet too early. It gives people a chance to mobilise so they can object more quickly and more organised.
"So there is a tension there between early engagement and the demands of actually getting the thing built quickly and on time. How do you reconcile the different competing agendas? It's not easy."
The conventional view of NIMBYism is that it is a problem with the people who are doing the objecting, he continues. "There is a whole litany now of social science research that talks about the deficit syndromes. These are individuals who don't know enough about the facts, who don't have enough public spiritedness, who don't behave rationally, and who don't have a legitimate voice because they don't represent the majority." He says that if anything makes people more angry, it is being ignored.
There is an emerging view across social science that NIMBYism isn't just about the problematic characteristics of difficult objecting individuals, it's actually caused as much by how developers and society and policy makers act, Devine-Wright points out.
He says that energy conflicts are often characterised by a sense of injustice. In the UK, the University of Exeter's research shows that very few companies hold public meetings "because it's more difficult to control the public who attends."
"It's easier to hold public exhibitions where you interact with the public in an individual basis, in ones and twos." Anger and hostility does not then have an opportunity to develop.
Devine-Wright says that there has to be better ways of bringing the community with the energy transformation process.
A "fruitful way forward" to successful engagement with affected communities, he opines, is to clearly and realistically scrutinise processes, procedures and assumptions used to deal with the public.
Devine-Wright also questions what a successful community engagement process is?
A quick, streamlined process with minimal time involved and a silent community who fail to object or one with genuine debate, listening on both sides?
There needs to be "the right mechanisms in place" to support community energy projects and enable action, he adds.
To conclude, the prospects of energy transformation being completely achieved by an entirely private sector led large infrastructure scale process is very unlikely, he says.
The idea of alternative business models should become normal and this in turn would open up the possibility of a transformation in energy demand. "A successful community linked energy project shouldn't be just about decarbonising the energy supply system, it has to bring it back to what people are actually doing in their villages, homes and workplaces – reducing energy consumption is also just as vital as decarbonising the supply side."