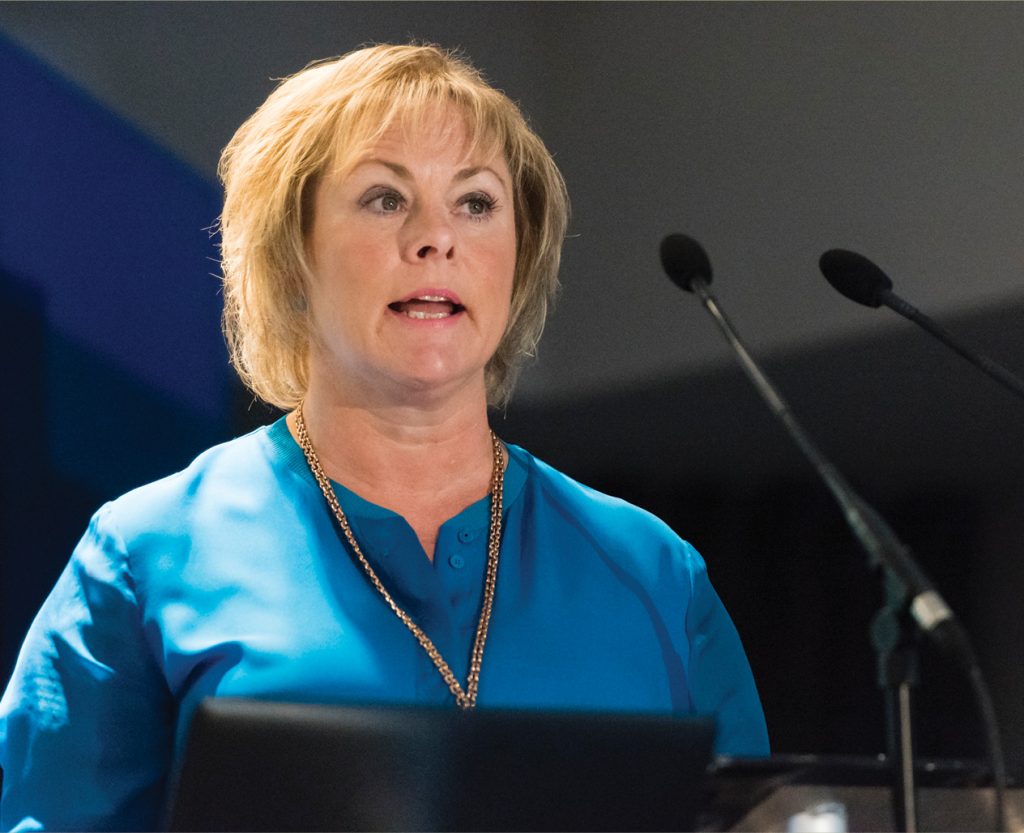 Regulating the electricity networks of the future was the issue addressed by Northern Ireland energy regulator Jenny Pyper.
Northern Ireland's utility regulator confirmed that she was also speaking in her capacity as member of the all-island single energy marker committee at the Energy Ireland conference.
"Where Northern Ireland is concerned, the electricity network is either at full capacity or under severe strain," she said. "This brings with it challenges for both the grid and regulators."
"Northern Ireland has seen a rapid growth in renewables over recent years. Back in 2009 they constituted 8 per cent of all the electricity produced. Today the figure stands at 25 per cent with a target to reach 40 per cent by 2020 now in place.
"In my opinion, this objective will be reached. Despite the fact that the renewables subsidy regime has now been terminated, a total of 1850MW of renewable electricity capacity has been installed or is in the pipeline. However, Northern Ireland's high end peak demand is 1800MW."
Pyper can foresee a future which entails the development of a more complex and sophisticated electricity grid network, which must respond effectively to both generator and consumer requirements.
"Fundamentally, we need more grid capacity. In the first instance, it will have to deal with more renewable connections."
However, from a supply perspective Pyper believes that the completion of the north south interconnector by 2021 is of fundamental importance.
"This project must become reality and I welcome the endorsement given by Minister Naughten to this project."
Turning to the prospects for solar energy, the regulator said that storage solutions are required. "We need to have more active engagement with consumers. In addition, we must also find ways of managing unpredictable loads within the system. Smart meters are not available in Northern Ireland at the moment. This is another issue that must be addressed."
Pyper said that the island of Ireland needs healthy competition, where electricity markets are concerned. And the Integrated Single Electricity Market (ISEM) will, in her opinion, deliver increased levels of competition, once it becomes operational in 2017.
"In turn, this should help put a downward pressure on prices as well as encouraging greater levels of security of supply and transparency. ISEM must provide the right balance between supply and demand," she added.
"In this context, we must take account of the need to develop inter-connectors between the island of Ireland and other parts of the EU, plus those factors that will help drive greater levels of efficiency within the market place.
"All of these challenges will require much more flexible management systems, so as to deal with a much more unpredictable energy production scenario moving forward."
"We must take account of the need to develop inter-connectors between the island of Ireland and other parts of the EU plus those factors that will help drive greater levels of efficiency within the market place."
The regulator suggested that EirGrid's DS3 programme will be crucially important moving forward.
"It will facilitate both regions of Ireland meeting their renewables' targets," she added.
"Core to the success of the DS3 is the fact that it has been designed to ensure that a power system can be effectively managed with increasing amounts of variable non-synchronous renewable generation over the coming years.
"Achieving this level of renewable integration on a synchronous system will present significant challenges moving forward. These must be overcome given the renewable electricity targets set for both parts of Ireland in the run up to 2020 and beyond."
Pyper also anticipates the use of auctions by 2018 as a means of further developing the Irish electricity market.
"This represents part of an innovative response to the pressure now being placed on the grid," she said.
Commenting on future network price control elements, Pyper said that factors including benchmarking, asset management and financial modelling must be taken into consideration.
"The principal aim must be that of providing an efficient revenue cap so as to help deliver quality outputs that customers need. Driving innovation and adopting new technologies is also important in this context."
According to Pyper, the regulator has a legal obligation to protect the interests of consumers. Ensuring that costs are minimised for customers is, therefore, one of the main aims of a price control. It is the job of the regulator to ensure that the network is operated and developed to meet customer needs in a cost-effective and efficient manner. She intends to continue to meet this objective, especially in the context of the current economic climate.
While ISEM and DS3 are technical responses to the challenges that lie ahead, Pyper also recognises that price controls must be implemented more effectively.
"We need improved communication with consumers. And NIE networks must be commended for their efforts made in making this a reality.
"Consumers want high performing networks, delivered at the lowest possible cost. It is also important for the regulator to act in ways that deliver a high performing electricity network, supports excellence in asset management while, at the same time, engaging consumers by delivering an efficient and effective network at the lowest possible cost."
Pyper confirmed that, in future, regulators will have to change their emphasis: not just to encourage the empowerment of consumers; but to become more transparent in the way that they do this.
"There will be a growing focus on both principles and outcomes," she stressed.
"We need to see a better quality of engagement between all relevant stakeholder groups. The electricity industry must become more consumer centric and utilities must become more accountable to its customers.
"The prevention of market abuse and the associated need for effective enforcement go hand-in-hand. We also need to see much more competition in the market place."
Pyper also believes that the transformation to a low-carbon economy will have a major impact in the way that electricity is generated and consumed.
"On 10 May 2016, no electricity was generated from coal in the UK. This reflects fast changing times. I believe that solar has a future in Ireland. However, it does alter the traditional communication model between consumers, producers and grid operators."
Some changes may happen that are outside the remit of the regulator. Speaking just before the EU referendum in June, Pyper said: "Brexit is a case in point. Northern Ireland is part of the UK. So nobody really knows what might happen to the current all-island electricity models, should Brexit become a reality. Potentially, the implications are more than significant."
Looking to the future, Pyper said that consumers will have more choice.
"Smart devices will have a key role to play in terms of empowering consumers and should, therefore, represent a new dynamic within the market place. We are already seeing the rise of the prosumer and this trend looks set to continue."
The regulator admitted that the future price of oil and gas will continue to have a major influence on future electricity prices.
"Nobody can predict future trends in this regard with any degree of certainty," she added.
"Despite all of these changes, regulators must act at all times to defend the interests of consumers. The core challenge remains that of balancing regulation and competition.
"Whatever happens, electricity regulators will be facing the challenge of managing a more complex grid. This is inevitable given the diverse nature of the renewables' sector."