John Reilly, Head of Powergen Development at Bord na Móna, outlines the company's transition under its strategy of 'Brown to Green'. The implementation of the strategy will see the company move from its traditional peat-based activities towards a green low carbon climate solutions company that will play a leadership role in delivering Ireland's renewable energy ambitions.
Bord na Móna has played a central role in securing Ireland's energy supply since the founding of the State. As the company winds down its peat operations, it is fast developing a pipeline of renewable energy projects that will not only help secure future energy supplies but will help address Ireland's climate action ambitions. The strategy, that was drawn up in 2018, will build on the company's existing 300MW of onshore wind assets which currently produce 10 per cent of the renewable electricity generated in the Irish market. The semi-state company plans to develop an additional 1GW of renewable energy assets to add to its existing portfolio by 2030 and the primary focus of this investment will be in onshore wind and solar PV As part of this
€1.6 billion investment programme the company also intends to add flexible capacity via battery energy storage and peaking capacity.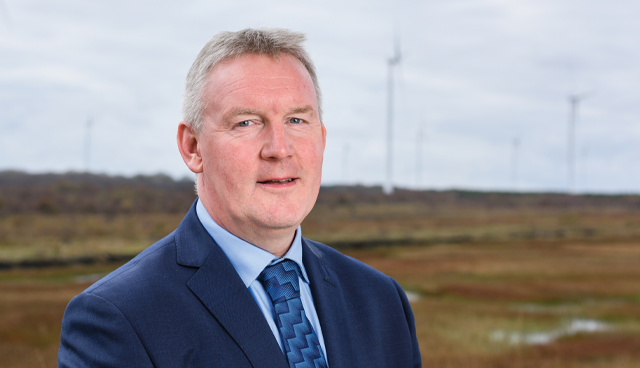 RESS-1 auction
Bord na Móna was the big winner in the RESS-1 auction with 170MW of capacity in two wind farms, one of which is being developed on a joint venture basis with ESB. "Scale and capacity factors mean that these two projects represent around 25 per cent of the total volume procured in the RESS-1 auction and we were very pleased with the pricing secured in the competitive auction. Our big challenge as a semi-state company is to become more competitive and our land bank, which allows the development of renewable energy projects at scale, is the key to our competitive advantage," says Reilly.
In addition to participating in future auctions, Bord na Móna is also interested in developing alternative routes to market via corporate power purchase agreements for example, power purchase agreements (PPAs). "The price discovery in the RESS auction probably puts the PPA model under some pressure for now, but strategically we are very interested in PPAs. We don't see all of our projects being delivered through RESS or with any form of support. We believe some of our projects will be delivered through other routes such as PPAs or even some form of quasi-merchant basis as wind energy is becoming increasingly competitive from a cost perspective."
Future development
Outlining the advantages of Bord na Móna's existing land bank in developing its onshore wind portfolio, Reilly says: "We have 80,000 hectares of former cut-away peat land much of which is suitable for renewable energy projects. This land bank affords us a significant strategic advantage, particularly in a world of competitive auctions where achieving the lowest levelised cost of energy production is paramount. Scale is the key factor as well as cost effective grid connection solutions as connection costs for 100MW of capacity is not significantly different to that for 50MW. The form and nature of our land allows us to develop projects with turbine tip height of over 200m and blade lengths of up to 75m, significantly enhancing energy production levels."
Bord na Móna is also developing 500MW of solar on a joint venture basis with ESB. The first solar project will be ready to bid into the second RESS auction. Again, the company is only interested in projects at scale and any solar additions to its portfolio will be at utility-scale. The Timahoe North solar farm in Kildare was granted planning permission early in 2020 and the JV company has already secured a grid connection for the 70MW solar project.
Complimenting their wind and solar generating capacity, Bord na Móna have a strong interest in battery storage and recently secured grid connection capacity for their first co-located wind farm with battery storage in Derryadd, County Longford, which Reilly explains will provide a blueprint for future deployment on all renewable projects enhancing system flexibility, thereby contributing to the facilitation of intermittent renewables onto the grid.
Electricity market design
On flexibility, Reilly explains that Bord na Móna is looking beyond battery storage to peaking capacity. "We already have peaking capacity in our portfolio and are interested in developing more," he states.
Bord na Móna's renewable energy portfolio 
Operational
Bellacorrick Wind Farm (operational 1992) 6.4MW
Mountlucas Wind Farm 84MW
Bruckana Wind Farm 42MW
Drehid Landfill Gas 5.6MW
Sliabh Bawn (JV) Wind Farm 64MW
Oweninny (JV) Wind Farm Phase I 93MW
Edenderry Power Biomass (50MW)
In construction
Cloncreen Wind Farm 75MW
Oweninny (JV) Wind Farm Phase II 99MW
Pre-construction
Derryadd Wind Farm 90MW
Timahoe Solar Farm (JV) 70MW
Planning applications in process
Derrinlough Wind Farm 85MW
Pre-planning
Ballivor Wind Farm (90MW)
Oweninny Wind Farm Phase III (80MW)
Ballydermott Wind Farm (250MW)
"We also have planning permission to build a CCGT [combined cycle gas turbine] in the midlands. Unfortunately, the current design of the wholesale market is not delivering the investment signal required for this type of capacity. Any new plant will have a 10-15 year life and it may not be rewarded in a decarbonised world and yet the power system needs such capacity."
The lack of market reward for future CCGTs is a problem that Reilly sees as a wider pan-European issue:
"When you have a commodity in scare supply and the market is not bringing in new entrants there is a problem. The problem arises due to policy at the European level. The latest European energy package recognises that the market design needs to change to facilitate decarbonisation but that will take time and Ireland is facing a potential capacity crunch in the near term with demand rising rapidly so this represents a real challenge for us now.
"We now have a system increasingly dominated by intermittent renewables, that are becoming very cost effective. Ireland, with its wind resources, has an incredible opportunity to drive electricity prices down to very low levels, where the production of green hydrogen at scale would afford the country an opportunity of energy independence as we move towards Net Zero. However, to do that we need back-up capacity on the system. This capacity needs to be paid for not in MWhs produced but for the back-up reserve it delivers. It brings us back to the original design of the SEM with its capacity market, which would provide an ample investment signal for the provision of flexible reserve. DS3 service payments are necessary but if you do not have longer term contracts, who will build the back up capacity?"
Reilly envisages a capacity crunch emerging as the current market design is leading to closure of old plant but is not delivering the required investment signals for sufficient new flexible capacity, a problem which he believes is being intensified by demand growth being driven by data centres. "A vibrant tech sector is important to the Irish economy and we need to be in a position to meet the power needs of the data centres."
Grid investment
Grid capacity is the single biggest challenge in meeting the 70 per cent RES-E target and Reilly highlights that CRU and policy makers need to provide EirGrid with the necessary funding for the delivery of the required physical grid infrastructure. "We really need a 2030 grid plan to underpin the move to 70 per cent renewables. We need investment in vital backbone network not just to accommodate the growth in onshore wind and solar but also the vitally important off-shore wind capacity needed to drive the decarbonisation of the electric power system," he concludes.
Contact information
T: +353 4543 9000
W: www.bordnamona.ie