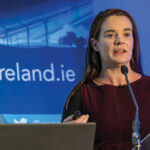 The impact of planning and regulatory delays
9th October 2023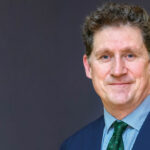 Minister Eamon Ryan TD: The energy transition
9th October 2023
Following the publication of its Networks for Net Zero strategy in January 2023, Managing Director of ESB Networks, Nicholas Tarrant, talks to David Whelan about the organisation's central role in the energy transition.
"Our purpose in ESB Networks has always been to connect and distribute electricity safely and securely," explains Tarrant. "But, by acknowledging the central role that electricity plays in climate action, our purpose has evolved to deliver a clean electric future through the electrification of heat, transport, and industry, as well as connecting renewable generation at scale to the electricity network."
The Managing Director is speaking in the context of "stretching" targets set out in the Government's Climate Action Plan 2023 (CAP23), which puts ESB Networks' purpose at the centre of delivery of the sustainable social and economic development of communities, businesses, the country's climate action response, and the transition to net zero.
As a commercial semi-state company regulated by the Commission for Regulation of Utilities (CRU), ESB Networks has responsibility for operating, maintaining, and building the distribution network as the electricity Distribution System Operator (DSO), Distribution Asset Owner (DAO), and onshore Transmission Asset Owner (TAO).
Tarrant explains that the new Networks for Net Zero strategy sets out ESB Networks' role in enabling the delivery of CAP23 and supports the decarbonisation of electricity by 2040, key to the achievement of Ireland's net zero ambition no later than 2050.
"Through our strategy, we are setting out a clear objective to develop a resilient electricity network that is flexible and smart, and will provide a foundation for a clean electric future in Ireland by 2040," he states.
While the remit of ESB Networks in the decarbonisation of electricity generation, heat, and transport is large, the ambitions of the strategy are succinctly outlined within three core pillars of: decarbonised electricity; resilient infrastructure; and empowered customers.
Decarbonised electricity
Enhancing the role of electrification to decarbonise Ireland's economy is reliant on a foundation of an electricity network that facilitates and distributes rising levels of renewable energy. In 2022, ESB Networks connected a record 688MW of wind and solar generation projects.
However, Tarrant explains that well in excess of that number will be needed year on year, adding that ESB Networks is striving to play its part in the connection of 22GW of renewable generation by 2030.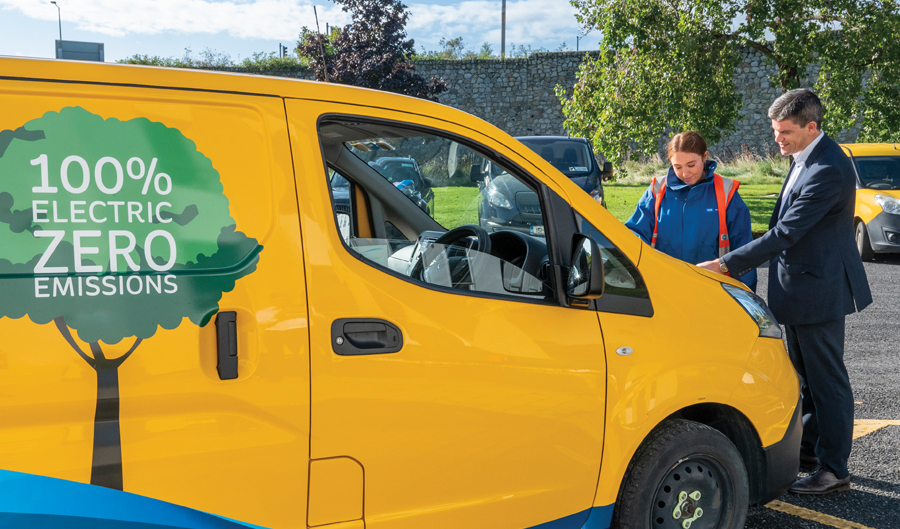 "As the electricity system transitions towards a smarter, sustainable model, the operation and management of intermittent and renewable generation, coupled with new types of demand, will require a digital network that is both flexible and smart," he states.
CAP23 sets out targets of 9GW of onshore wind, at least 5GW of offshore wind (including an additional 2GW of offshore wind for green hydrogen production), and 8GW of solar connected to the electricity system by 2030.
Highlighting the breadth of ESB Networks' work in delivering a decarbonised electricity network for the future, the Managing Director points to its role in building the transmission projects onshore to facilitate offshore wind projects, and the increased connection of microgeneration. ESB Networks is also working to grow the electricity network to enable the expansion of electric public charging infrastructure to 20 times its current capacity in order to comply with EU regulations by 2030.
Outlining some of the successes to date, enabled by a 60 per cent rise in capital investment through the regulated price review for the period 2021 to 2025 (PR5), Tarrant says: "Last year, we connected a record 688MW of wind and solar projects to the network, however, significantly in excess of that will be needed every year out to 2030 if we are to make net zero a reality.
"We are also managing significant growth of microgeneration. Currently, we have over 68,000 individual connections to rooftop solar, and those connections are growing at a rate of approximately 700 per week. In 2022, approximately 95MW was added to the network through projects classed as small-scale generation and below, (these are projects below 200 kW in size) which is a significant number when added to the 688MW also generated by large scale projects.
"This year, we expect to double that figure to reach 200MW, showing that we are managing the connection of microgeneration on rooftops right through to the large scale generation.
"To continue this progress, a growing programme of investment is needed to facilitate the increased connection of renewable generation to the network both on the transmission and distribution sides. In this regard, our upcoming Price Review 2026 to 2030 (PR6) is of critical importance, and we will continue to work with the CRU and our wide range of stakeholders to ensure continued momentum to achieve net zero."
Resilient infrastructure
Ensuring that the electricity network has the capacity to connect and accommodate renewables, as well as serve the demand growth driven by projected population growth, and demand increase due to the electrification of heat, transport, and industry, is a key consideration for ESB Networks.
Tarrant explains that major investments are being made in network infrastructure at all voltage levels, alongside the development of new tools and procedures to enable the use of new innovative technologies.
Key to managing these shifting demands is the building into the network of demand flexibility. The Networks for Net Zero strategy sets out a target for ESB Networks to manage 20 to 30 per cent of all electricity demand flexibly by 2030, with a 2025 target of 15 to 20 per cent, in line with CAP23. Tarrant points to the establishment in 2020 of the National Network, Local Connections (NN,LC) Programme, aimed at supporting the reduction in peak electricity demand and putting measures in place to improve electricity demand management, as key to future progress.
Outlining ESB Networks' recognition that the continued partnership approach between the transmission and distribution system operator will be required to deliver an "optimal whole-of-system" solution, he explains: "As dependence on the electricity network increases, the quality, condition, and performance of the network will become increasingly important.
"We will continue to adapt and strengthen our network so that we can collectively transform our energy future and improve the resilience of the
network from the risk of extreme weather events and cyberattacks."
The Networks for Net Zero strategy adopts a 'build once for 2040' concept, which Tarrant explains will see ESB Networks anticipate the needs of customers in 2040, and beyond, as electricity demand growth accelerates with the electrification of heat and transport. The proposed development of renewable hubs is set to explore advance build network reinforcements, increasing customer engagement to provide guidance on different pathways for connecting renewables.
Empowered customers
Tarrant stresses the importance of the design of Networks for Net Zero as a customer-centric strategy. Discussing the 'empowered customers' pillar, he says: "The way in which customers engage with the electricity network, and electricity in general, is changing rapidly, as shown by an uplift in the volume of people electrifying their transport, their heat, and availing of time-of-use tariffs."
"We know that change is happening at pace, and we are evolving our business processes, systems, and ways of working in anticipation of future network requirements."
Nicholas Tarrant, Managing Director, ESB Networks
The public support for climate action is vital for this transition and Tarrant stresses the importance that ESB Networks delivers on the trust that has been placed upon it to connect, distribute, and build an electricity network that will meet future demand. This includes a target to connect up to one million EVs and 680,000 heat pumps to the distribution system by 2030.
"Our commitment is to connect our 2.4 million customers with a great experience through proactive engagement, and by consciously placing their needs at the centre of everything we do," he says.
"That also means enabling new opportunities for our customers to take part in the energy transition through self-generation and storage, demand management, energy efficiency opportunities, and selling electricity by exporting back onto the electricity network."
Major progress in empowering consumers by ESB Networks can be seen in the roll-out of over 1.4 million smart meters to Irish homes through the National Smart Metering Programme, with Tarrant indicating a current instalment rate of some 10,000 per week.
"Alongside the instalment of meters, we have launched a new customer online account to enable customers to have access to their data, to be able to share it. The ESB Networks online account offers a range of digital services to empower customers with self-serve options such as applying for a new connection, finding their MPRN and learning about their energy consumption.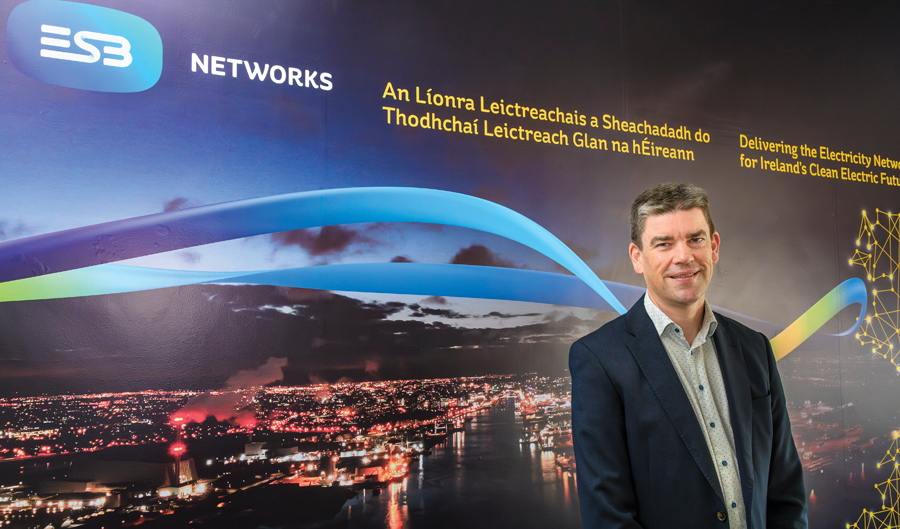 Economy
ESB Networks plays a large role in Ireland's economic future. The organisation, which employs 3,600 people and has more than 1,000 Irish suppliers, invested €869 million in 2022 across all of its work programmes with the investment expected to grow to over €1 billion per year.
Alongside a key role in helping to deliver the Government's energy policy ambitions, it is also a key enabler of other policies such as the Housing for All programme, facilitating a 36 per cent uplift in new connection requests in 2022.
Tarrant explains that ESB Networks is continuing with an intensive recruitment process of skills at all levels of the organisation, including the doubling of its apprenticeship intake to almost 100 in 2023, and the expansion of its contractor base.
On the challenges facing ESB Networks, Tarrant says: "We are coming from a good place in that there are very clear government targets set out in CAP23, and our ambitions were supported by an uplift in capital resources in PR5. For the second half of the decade, PR6 will be very important but we are already working to address those longer-term challenges we foresee, for example, through recruitment and ensuring we have the right skills to meet future demand.
"We are also working closely with our contract partners to ensure that they have sight of the long-term vision and can see the work programmes in front of them, which allows them to ensure they have the correct resources in place to deliver for the country."
The Managing Director believes that proactively addressing future challenges will mean that ESB Networks, and ultimately, Ireland, will be able to stay ahead of the global competition for skills, resources, and supply chain.
"We know that change is happening at pace, and we are evolving our business processes, systems, and ways of working in anticipation of future network requirements," he outlines.
Tarrant stresses the importance of ESB Networks' flexibility and agility in the coming years to build resilience against any shocks, but also create space for new innovation and policy shifts. During PR5, major changes in policy, and therefore ESB Networks' operating environment, included the EU's REPowerEU strategy, the National Energy Security Framework, and CAP23. Praising the agile investment framework built into PR5, he expects a similar measure to be utilised in the second half of the decade to enable ESB Networks to best meet the needs of customers in a dynamic environment.
Concluding with his vision for what the success of the Networks for Net Zero strategy looks like, he says: "We must deliver, each year, on our commitments to make net zero a reality for the country. However, in a changing environment, we must also have the ability to be flexible. What is fundamental to our history as a company and for our future is customer service, and our aim is to support and enable customers to make this transition by delivering the electricity network for everyone's clean electric future.
"Ultimately, for the transition to a net zero society no later than 2050, we need to ensure a net zero ready distribution network by 2040," he states.
Profile: Nicholas Tarrant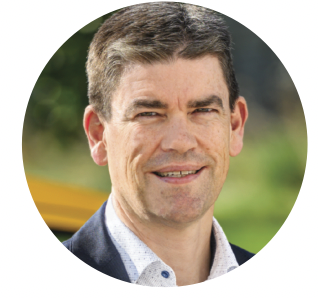 Nicholas Tarrant was appointed Managing Director of ESB Networks in September 2021. Prior to this, he held the positions of Executive Director, Engineering and Major Projects and Managing Director, NIE Networks. He has held a number of senior management positions including Generation Manager with responsibility for ESB's generation portfolio.
He is a chartered engineer at the Institute of Engineers of Ireland, a Chartered Director and holds an MSc (management) from Trinity College Dublin (TCD).