Stephen Wheeler, Managing Director of SSE Ireland, talks to Owen McQuade about the challenge of decarbonising the Irish economy, how Ireland's offshore wind resources can deliver renewable energy at the scale required, and the changing role of the consumer.
It is now 10 years since SSE acquired Airtricity and entered the energy market in Ireland. Reflecting on the company's first decade here, SSE Ireland Managing Director, Stephen Wheeler, says: "We're immensely proud of the progress we've made in that time." Since 2008, the business has grown from 200MW of wind farm assets to become the largest developer and operator of renewable energy on the island of Ireland, generating over 735MW at 29 wind farms. The company's retail business, SSE Airtricity, has also grown dramatically from small beginnings and now provides hundreds of thousands of home and business customers with green electricity, natural gas and energy-efficiency services.
SSE's growth in Ireland has not just had an impact on the energy sector here, but on the wider economy too. Through its spend on onshore wind farms, SSE has directly invested over €2.5 billion in low-carbon and green energy generation on the island of Ireland, supporting 6,000 years of full-time employment. "A lot of this investment came at a time of recession in Ireland, so it was a real sign of the confidence we had in our business here. Now, 10 years later we're the second largest energy utility, with a team of nearly 1,000 highly-skilled people working across the island," Wheeler reflects.
In the last two years alone, the company has brought four new onshore wind farms into operation, including Ireland's largest, the 174MW Galway Wind Park in Connemara's Cloosh Valley, which was developed as a joint venture with state forestry company Coillte.
Looking at the impact of the company's investment in local communities close to its renewable energy developments, Wheeler explains: "Through our Community Fund programme, we've been able to present over €6.5 million to community projects so far, and we're looking forward to continuing to contribute to the social, environmental and economic well-being of local communities for decades to come."
He acknowledges that whilst "it's important to look back, we need to look forward". He believes that SSE, as Ireland's largest generator and provider of green energy, is well-positioned to play a leading role in transitioning Ireland to a low-carbon economy, which he describes as "probably the biggest challenge of our generation".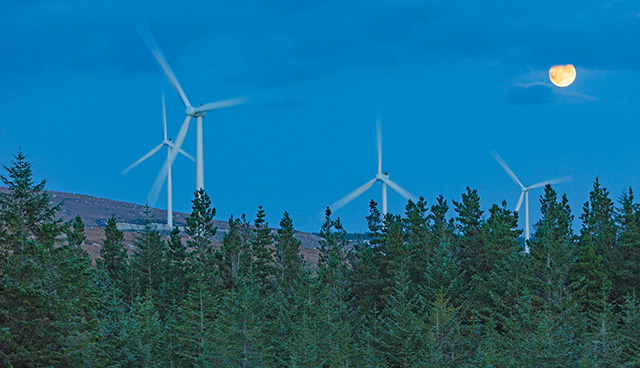 "10 years later we're the second largest energy utility, with a team of nearly 1,000 highly-skilled people working across the island."
Underlining the scale of the challenge, Wheeler calls on Barack Obama's observation that this is the first generation that knows about the challenge of climate change, but it is also the last generation with the ability to do something about it. "That's something SSE is incredibly passionate about. We have a window of opportunity right now to transform the way in which we generate power in Ireland, and to do so in a way that reaffirms Ireland's commitment to our binding climate and energy targets."
He draws comparison with TK Whitaker and his pursuit of economic ideas that gave new hope for Ireland. In 1958 Whitaker's Programme for Economic Expansion focused on Ireland's strength in putting grass before grain in agriculture and looked at markets beyond Ireland. "It was a truly revolutionary approach, and in the same way, we need to embrace new economic ideas that will mark the end of our outmoded dependency on traditional fuel sources and technologies, in pursuit of a new low-carbon, green energy ambition for Ireland," he says.
"We've made a number of big strides over the years, particularly through onshore wind, and while we believe onshore technologies will continue to play a critical role, the scale and urgency of the challenge is now greater than ever, and we need to act quickly. We believe offshore wind must be supported as the technology best-placed to deliver the large-scale renewable generation Ireland rapidly needs."
Illustrating the potential scale of offshore wind, he points to SSE's Arklow Bank Wind Park project off the coast of County Wicklow, which is currently in the company's development pipeline and would generate up to 800MW of renewable energy – exceeding the combined output of the company's existing 29 onshore wind farms on the island.
"Ultimately it should be about delivering large-scale renewables at the lowest possible cost, and developing Ireland's vast offshore wind resources will do that."
"We're the only country in north-west Europe that is not currently taking advantage of our offshore wind resource. The potential for Ireland is enormous. Ireland's seabed territory is actually one of the largest in Europe, more than 10 times the size of our land mass. At SSE we currently have a major focus on the east coast and our project at Arklow Bank, but there are clearly huge opportunities on the west coast too, especially when you consider the rapid development of floating turbine technology."
A recent report published by KPMG details how offshore wind can assist in Ireland's transition to a low-carbon economy, and specifically the economic and social opportunity that offshore wind represents. "The development of a thriving offshore wind energy industry presents oceans of opportunity for Ireland, including multi-billion-euro investments in low-carbon generation, the creation of skilled regional jobs and supply-chain development, and the regeneration of local ports around the island," Wheeler says.
He argues that "from an Irish perspective, we have the expertise and the ambition, but we need to have a clear policy in place". He contrasts the lack of direction for offshore wind here with the situation in Britain, where there is a clear policy to achieve 30GW of offshore wind by 2030 and SSE is a leading developer. "By articulating this ambition, the UK has set the context for the supply chain to deliver on it." Whilst SSE has welcomed the Irish Government's Renewable Electricity Support Scheme (RESS) which sets out targets up to 2030, "the challenge is the size of the auction rounds. They are simply too small in the current form envisaged to send the investment signals that will support offshore wind development. Ultimately it should be about delivering large-scale renewables at the lowest possible cost, and developing Ireland's vast offshore wind resources will do that".
Climate change
Wheeler is keen to stress that whilst large infrastructure projects are needed to decarbonise the Irish economy, we also need to look at the small changes we can make as conscious citizens. "When you combine all these small changes together you have a profound impact. Through SSE Airtricity we've recently launched our 'This is Generation Green' campaign, designed to empower people to make the day-to-day small choices that can make a big difference."
A key aspect of the drive towards a low-carbon economy is energy efficiency, "the quiet hero of the energy sector". "Through a range of energy-efficiency upgrades, SSE is helping homes and businesses 'go green', reducing their carbon footprint and their energy bills at the same time. "It's not about any one measure. As a green provider, it's about seeing yourself as a sustainability partner to your customers. You could say its counter-intuitive for an energy company to be incentivising consumers to use less energy, but we feel it's crucial as changes made at an individual level in each home and business will help deliver a change for good."
Earlier this year the company entered into an agreement to acquire 40 per cent of Activ8 Solar Energies, one of Ireland's leading suppliers of rooftop solar systems. "We know consumers are beginning to interact with energy in different ways, for instance through the take-up of rooftop solar panels in households, which we're excited to be involved in through our partnership with Activ8," Wheeler says.
"This is a good example of a technology we can bring to the next level. As we look ahead, we need to move beyond a regime where consumers are simply incentivised via grants for roof-mounted solar PVs, to a point where we're providing consumers with an export tariff for the energy they're generating."
Electricity market and carbon
As Ireland's second largest energy utility, SSE has played a leading role in developing and participating in Ireland's energy markets. "For SSE, the launch of the new market, I-SEM, is a major milestone, marking the culmination of years of hard work and readiness programmes involving teams right across our business. It's still early days but great credit is due to all the market players for what was really a seamless launch." I-SEM is the next phase of the development of Ireland's Single Electricity Market (SEM) and is focused on further integration with other European markets and moving from a passive to an active market. "Of course, with such fundamental changes to the market, there's bound to be plenty of twists and turns along the way, and we've already seen surprising levels of volatility in the Balancing Market. At SSE, we're fortunate to be able to manage our interactions with the market through a dedicated I-SEM trading desk based in Scotland, alongside our Energy Markets team in Dublin. It's one of the big advantages of being a fully-integrated utility – we're able to manage the flows of energy from production right through to the power we supply to consumers, both for SSE and other third-party renewable generators through Power Purchase Agreements (PPAs)."
SSE has set an ambition to reduce the carbon intensity of its electricity production across the UK and Ireland by 50 per cent by 2030. On the role of carbon pricing in energy markets, Wheeler is very clear about its importance: "We have to look to the long-term and we need a clear strategy on carbon. The changes to the EU Emissions Trading Scheme (ETS) are welcome but ultimately the system isn't working. At SSE Ireland, we have committed to reducing our Scope 1 and 2 carbon emissions intensity by 50 per cent by 2030. We believe there is a strong case for a carbon price floor, on the basis that it gives companies, such as ours, greater confidence when making investments in low-carbon technologies. SSE has found the mechanism to be effective in Britain, and we believe it's worth considering for Ireland, particularly in a marketplace where we'll move away from traditional supports for renewable energy projects."
Future
Looking to the future, Wheeler sees the decarbonisation of the Irish economy as a huge opportunity for consumers and society as a whole. "When it comes to renewable energy, our geography, as an island to the west of Europe, gives us a clear competitive advantage in terms of the natural resources available to us. And we have to make the most of that advantage. It's up to this generation to take action on climate change, and we have an opportunity now to reignite the renewable revolution, particularly through offshore wind, and reclaim our place as a leader in the transition to a low-carbon future. But it's also about ensuring all of us as individuals, households, businesses and communities, are empowered to make the small changes that make a big difference. At SSE, we see a future of partnership between generators, networks, suppliers, and at the heart of everything, consumers."