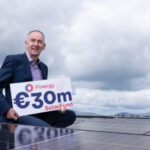 Pinergy calls on businesses to avail of new €30 million Solar Energy Fund
9th October 2023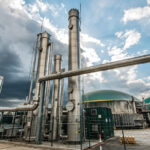 Renewable gas: Ireland's energy future
9th October 2023
RenewableNI, the voice of Northern Ireland's renewable electricity industry, has said urgent action is needed if the Climate Change Act target of 80 per cent is to be reached by 2030.
Steven Agnew, Director says: "Figures from the Department for the Economy (DfE) for the 12 months to end of June 2023, show that 45.5 per cent of our electricity used came from renewable sources.
"These figures show that we are stagnating, and we risk going from world leaders to laggers and urgently need to act if we are to change this."
At the beginning of September 2023, RenewableNI launched Accelerating Renewables in Northern Ireland, conducted by KPMG. The report focuses on grid, planning, and market issues, which were identified as key failures by the renewable industry.
Report author, Russell Smyth, KPMG, says: "More than $350 billion of capital has poured into renewable infrastructure investment around the world in the first half of 2023, yet Northern Ireland has attracted virtually nothing in the past four years, with 82 per cent of our survey respondents concluding Northern Ireland is currently considered an unattractive investment location for renewable developers."
RenewableNI will be discussing how government and industry can work together to achieve the report recommendations at the upcoming Smart Energy Conference on Thursday 19 October in ICC Belfast.
The premier renewable energy event in Northern Ireland, the conference will also include a panel discussion on the climate and biodiversity crises.
Speakers include DfE, DAERA, RSPB, The Crown Estate and Alliance Party leader Naomi Long MLA, in addition to event partner Carson McDowell.
The afternoon will focus on how to create Northern Ireland's offshore wind industry, worth a potential GVA of £2.4 billion for the economy.
In addition to meeting enough clean electricity annually to power 1.6 million homes, creating this emerging sector will create 1,500 new jobs, with £1.9 billion will be spent on Northern Ireland suppliers.
Agnew continues: "Northern Ireland has been without an Assembly for 18 months, but there has been an energy policy vacuum for 10 years. This has left Northern Ireland as the only part of these islands without a renewables support scheme since the closure of NIRO in 2017. With only 70MW of new electricity in the past four years, it is clear to see that a lack of support is having a major impact on development here.
"To put this into context, last year the Republic of Ireland developed 20 times the amount of new renewable electricity generation as Northern Ireland. They benefit from a support scheme, shorter planning timelines, and a government committed to climate action.
"We hope as many people can join us at Smart Energy to ensure we make smart decisions and achieve vital clean energy for Northern Ireland."
You can read Accelerating Renewables, along with RenewableNI's other reports and consultations at www.renewableNI.com/policy
Learn more about the Smart Energy Conference at www.RenewableNI.com/SmartEnergy