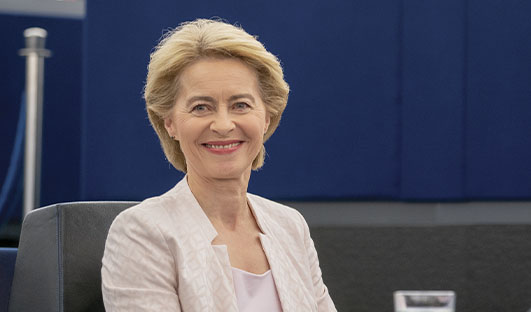 REPowerEU: Speeding up the transition
3rd January 2023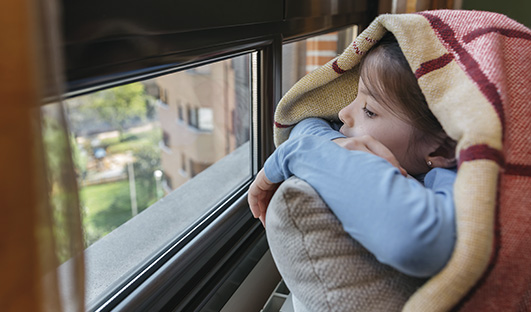 Irish energy poverty reaches highest recorded rate
3rd January 2023
Amid Bord Gáis Energy's ongoing journey to transform its energy supply, services and solutions and support its colleagues and customers, Teresa Purtill, Director of the newly established Services and Solutions Division, discusses planet and people.
Having been established as a new department at the close of 2021, Bord Gáis Energy's Services and Solutions Division is designed to support the utility's drive towards a sustainable energy future, with specific responsibility of rolling out innovative products to help its customers with their energy usage.
"It has been a very busy year, against the backdrop of a lot of changes in the industry. We are on a journey of transformation in Bord Gáis Energy, no different from the broader energy industry, and indeed from society at large," Purtill reflects.
Imagining a better way
Imagining a better way: Our journey towards a sustainable future is Bord Gáis Energy's strategy to provide energy services and solutions to empower customers to live sustainably, simply, and affordably.
At its heart, the strategy establishes goals that Bord Gáis Energy has set to support Ireland's decarbonisation ambitions, alongside its own journey of transformation, which includes its premises, its fleet, and its customers.
"The national target of 80 per cent renewables on the grid by 2030 is one which will involve all sectors of society. However, as a leading energy service provider, it is critical that Bord Gáis Energy takes a lead role in doing that. As we focus on investing more in renewable energy sources ourselves, we must take our customers on that journey.
"Our brand has repositioned itself to imagine a better way. Our purpose is to help our customers to live more sustainably," the Services and Solutions Director outlines.
With its dual pillars of both planet and people, Bord Gáis Energy's Imagining a better way is firmly aligned with parent group Centrica's People and Planet Plan. "We are fully supportive of Centrica's goals and, in fact, our goals in terms of decarbonising our own emissions and our customers' emissions are completely aligned," Purtill adds.
Affordability
Emphasising the affordability element "at the heart of our strategy", Purtill cites Bord Gáis Energy's partnership with Energlaze Home Energy Upgrades, and the access to grants made available by the Sustainable Energy Authority of Ireland (SEAI).
Cognisant that this is just one part of the solution, Bord Gáis Energy is also actively working on a suite of finance solutions which will launch in 2023 for both residential customers and businesses. "For instance, we are working closely with the Irish Farmers' Association to develop solar propositions which increase the affordability of investing in solar panels for the Irish farming community, helping to decarbonise rural Ireland," the Services and Solutions Director notes.
However, Purtill acknowledges that, for many customers, "the journey to net zero will be long and one that can appear daunting". As such, Bord Gáis Energy, as a trusted energy advisor, has undertaken a dual role in assisting customers to determine the best pathway for them, while also helping in terms of affordability.
"Facing into winter 2022/2023, the first step, for many, will be replacing their existing gas boiler heating systems. If, for a customer, that means replacing it with a more efficient gas boiler, we have financial solutions we have put in place to facilitate ongoing regular payments. This is going to help customers to become more efficient," she indicates.
Communication
Actively encouraging Bord Gáis Energy's 700,000 customers, both household and business, to engage with its transformation journey is, the Services and Solutions Director attests, a challenge of education.
Conscious that media coverage of energy – its usage and its cost – can be challenging for customers, the utility seeks to actively communicate and share information with its base. "We are also expanding our customer service centres to encourage our customers to engage with us, as they seek to understand how they can reduce the cost of their bills, how they can make their homes more efficient. We will be able to advise them what the best solution is for them," Purtill says.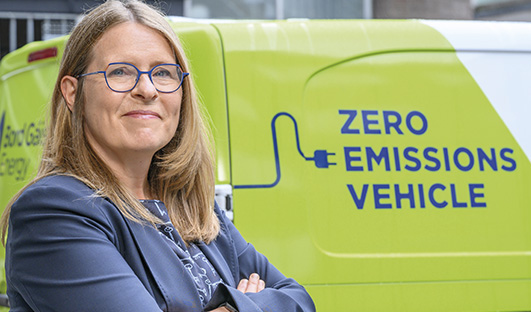 "Our brand has repositioned itself to imagine a better way."
Teresa Purtill, Director, Services and Solutions Division, Bord Gáis Energy
Reducing demand
While reducing demand may seem like a counterintuitive principle for a leading supplier of gas and electricity in Ireland, alongside a commitment to double its renewable energy portfolio by the end of 2025, the single biggest impact Bord Gáis Energy can make to emissions between now and 2030 is reducing customer demand for gas itself. This will be achieved through the introduction of net zero energy solutions in homes, alongside a commitment to support the introduction of biomethane into the natural gas network in the short term and introduce hydrogen in the long term.
"In terms of introducing innovative products, one of our key pillars is introducing green solutions to our customer base and encouraging them to use less gas and less energy," Purtill explains.
"First of all, we are introducing a range of innovative products, such as Hive Active Heating, and we are expanding the technologies that will be compatible with that ecosystem. They will be connectible with, for example, heat pumps, EV chargers, and smart hot water tanks so that customers can control their usage and spend less on energy.
"Secondly, we are rolling out a range of smart tariffs for customers. Half of our electricity customer base now has smart electricity meters installed and so far, around 10 per cent of those customers have opted to avail of time of use tariffs. Helping and educating our customers about the various solutions that may be most appropriate for their needs is critical to the decarbonisation journey."
Uniquely placed
Equipped with its 45-year history as one of the largest energy providers in Ireland, Bord Gáis Energy is uniquely positioned, Purtill contends, as a result of the trust it has established through its services and solutions.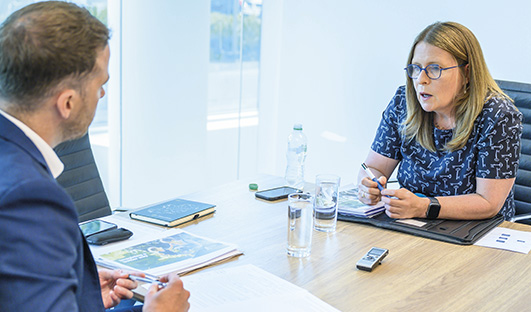 "Bord Gáis Energy will be synonymous with supporting customers in their journey to net zero…"
"The new Services and Solutions Division is the evolution of our existing gas boiler service and repair market. Through gas boiler repair, servicing, and installation, we complete up to 60,000 visits to customers' homes annually. It is a logical evolution for us to move towards to the electrification of heating systems. As we expand into electrified heating systems, customers trust us and trust that we have their best interests at heart when we advise them on the best solutions as they move forward."
People
Looking to the future of Bord Gáis Energy, Purtill emphasises the need to bring both its customers and its employee base on that journey.
"We are encouraging curiosity, we are encouraging agility, and we are encouraging innovation. We are putting emphasis on those traits as we test and learn. It is recognised that no one sector of society has all the answers, giving some indication as to how multifaceted the challenges are in terms of climate change and the need to reduce our gas emissions.
"Applying a test and learn approach, we can ensure that we have a growth mindset. We are encouraging people to move roles, but we are also investing significantly in the upskilling of employees across the board, to ensure that we are ready to go on that journey for the future," she says.
Currently, Bord Gáis Energy's focus is on enhancing its capability to provide the resources and skillsets to help facilitate the decarbonisation of homes and businesses across Ireland. Highlighting the significant shortage of skilled tradespeople – including electricians and plumbers – needed to deliver this decarbonisation, Purtill asserts that Bord Gáis Energy will be a part of the solution.
"We see ourselves as leaders in this space," she insists, adding: "We have been actively expanding our workforce, building an apprenticeship programme, and upskilling our gas service engineer population, which, in mid-August, installed our first heat pump. That was a great milestone for us."
Culture
Recognising the cultural change required, alongside its change in strategy, Bord Gáis Energy is also laying these foundations right across the organisation. "One of the things that we have made significant progress on in the last couple of years is our emphasis on diversity and inclusion," Purtill explains.
"I am the executive ambassador for our neurodiversity programme. At the heart of our network is the desire to create an environment where all people's skillsets and unique perspectives and cognitive abilities are recognised.
"As a mother of children who are neurodiverse, I can see first-hand the difference that accommodations can make to people. Adopting that philosophy and applying it to a work environment, we can observe that managing people in ways that are different or unique will allow them to achieve their full potential within our work environment. That is something that we are very proud of."
Energy security
Having embarked on a journey which will see it transition from being a traditional 'passive' utility, to becoming a one-stop-shop for energy use, energy management, product advice, and product sourcing, Bord Gáis Energy is also cognisant of the security of supply challenge.
"In the interim, there is no doubt that the role of our gas-fired power station at Whitegate, County Cork will be essential as we make the transition," Purtill states, adding: "As we move towards 80 per cent renewables, flexibility and security of supply will be crucial. As we expand our own renewable energy sources, we are, at the same time, investing in two new power plants.
"Set to come onstream in 2024, the two plants will be crucial to ensure there is a steady supply of power, which is particularly timely in the context of the energy challenge which has arisen in 2022. Equally, the technologies we are investing in will be compatible with conversion to hydrogen, meaning that we will be able to expand and use them for further decarbonisation."
Challenges
Inflationary pressures on wholesale natural gas prices, allied with geopolitical instability, has exacerbated the energy crisis. Throughout 2019 and 2020, Bord Gáis Energy absorbed the volatility in wholesale costs, committing to price pledges and keeping the cost of energy for its customers as stable and low as possible.
"That kind of volatility is a challenging backdrop, and it is one which all customers are facing," Purtill stresses, adding: "Our biggest challenge is to continue to communicate, share, and provide as much transparent information to our customer base about the drivers of those increases as we can, alongside our attempts to help offset that. We have also established funds to help our customers at this time."
Action
Simultaneously, there has never been a greater need to invest in enhancing the energy efficiency of homes. Given the prevailing cost of living pressures, this will be challenging for many people. As such, Bord Gáis Energy has implemented several initiatives to assist its customers.
Firstly, in March 2022, it established a fund for those who are most challenged in meeting their bills. Initially, it had established a €1.25 million fund. Recently, that fund was increased from €1.25 million to €5 million "to cover what is undoubtedly going to be a challenging winter in 2022/2023".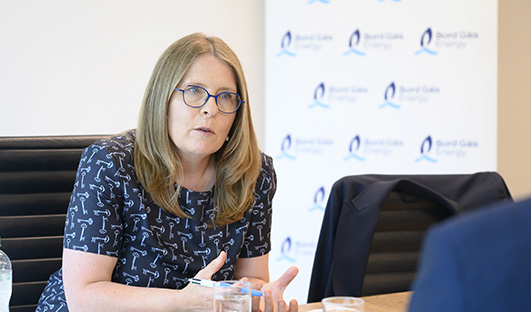 Secondly, Bord Gáis Energy introduced an additional 100 members into its
contact centre teams to ensure that "we are there at the end of the phone or email to help our customers with their concerns or queries".
Thirdly, it has streamlined its collection processes to ensure that for customers who are struggling to pay their bills, the focus pivots to debt management rather than debt collection. "The nuance is important. It means that we are asking our customers to reach out and engage with us so we can put payment plans in place that will give them peace of mind as they progress through the coming winter," Purtill observes.
Vision
While Bord Gáis Energy is recognised and trusted as market leaders in gas boiler service and repair, Purtill says the future ambition is for the utility to be the market leader in energy services and heat pump installation.
"Bord Gáis Energy will be synonymous with supporting customers in their journey to net zero; be it through the electrification of heating systems, energy reduction, or deep retrofits. We see ourselves as trusted partners in the broader community with our customers so we can help them on that journey," she concludes.
Teresa Purtill, Director, Services and Solutions Division, Bord Gáis Energy
Teresa Purtill is responsible for the growth of Bord Gáis Energy's services and solutions business, driving the revenue and commercial strategies for the organisation. Having previously held the role of Customer and Field Operations Director within Bord Gáis Energy, Teresa was focused on driving the company's customer experience strategy, business excellence and strategic programme delivery.
Prior to joining Bord Gáis Energy, Teresa was Global VP for Customer Care for the Hertz Corporation leading an organisation of over 2,000 people across 15 sites globally. Teresa's background is in driving change programmes and transformation in operating models, revenue generation and process efficiency through lean six sigma. Teresa holds an MA in European integration from the University of Limerick and is the Bord Gáis Energy ambassador for neurodiversity. Originally from Limerick city, Teresa is a proud fan of the Limerick hurling team and draws huge inspiration from its Munster and All-Ireland winning performances. Outside of work, Teresa enjoys hiking and outdoor pursuits, alongside playing camogie for Wild Geese GAA Club based in Oldtown, Fingal. She now lives in north County Dublin with her husband, Paddy, and three children ranging in ages from 10 to 26.